A mass brawl broke out in south east London on Thursday night as a summer street party turned violent leading to cars being flipped over and two arrests.
Police were called to Shooter's Hill, Woolwich, around 10.45pm after a party got out of control, with witnesses saying they saw revellers turning over cars and fighting, Wharf reported.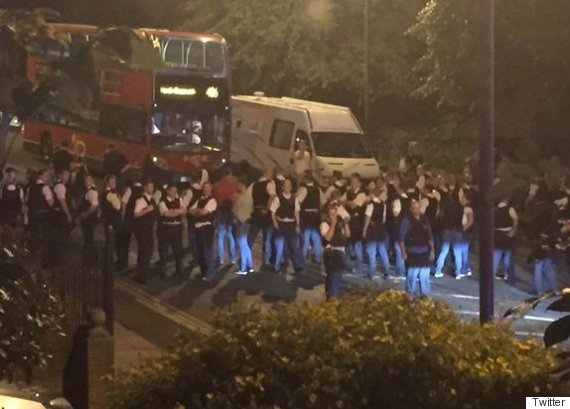 Dozens of police officers attended a mass brawl at Shooter's Hill in Woolwich
Pictures emerged showing dozens of officers trying to control the fight, as witnesses tweeted that the road had been blocked off and a police helicopter could be heard overhead.
Massive fight at the top of shooters hill, well over 20 police cars & vans

— George Seymour (@GeorgeSeymour19) July 2, 2015
SHOOTERS HILL IS A MADNESS

— arundel (@J0rdan_sulliv4n) July 2, 2015
When the whole police force gathers to block everyone entering Welling from Blackheath 😕😕😕😕😕😕 pic.twitter.com/p3kIRGfTlr

— sullivan (@_katiexa) July 2, 2015
all the feds from se ldn are here if u were wondering x pic.twitter.com/Dj4HwXU9EQ

— mads (@mansfieldmaddie) July 2, 2015
Why the big noisy helicopters going over Shooter's Hill last couple of nights? Feel like I'm in an episode of #MASH #welling #falconwood

— Jenny Cassells (@Jenjonks) July 2, 2015
WOOLWICH update: One person was arrested for suspected affray, another for suspected damage Shooters Hill last night. pic.twitter.com/Kcxj4raLFa

— Kent 999s (@Kent_999s) July 3, 2015
A Scotland Yard spokesman said that two people were arrested, one for criminal damage. There were no reports of injuries.
Buses were diverted due to the incident, with routes 89, 244 and 486 affected. TFL Bus Alerts tweeted that the service disruption was due to "a police incident on Shooters Hill".