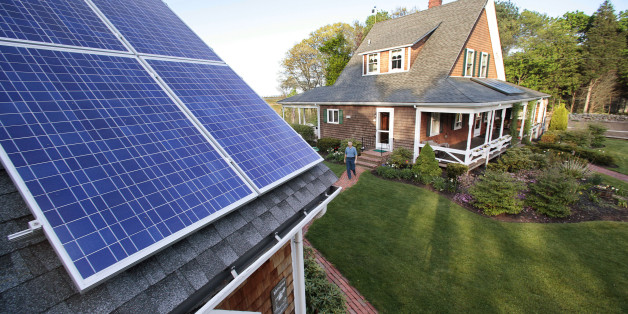 Stephan Savoia/AP
Solar power is supplying 16% of the UK's electricity demand this afternoon as the country basks in sunshine, the industry estimates.

The news comes as solar-powered homes, commercial rooftop schemes and solar farms open to the public today and tomorrow as part of "solar independence day".

And in what is shaping up to be a big day for the clean technology, the "solar schools" project run by climate change charity 10:10  is celebrating the 1,000th solar panel installed on a school roof to save money and carbon, and solar-powered plane Solar Impulse is set to land in Hawaii after a record-breaking flight across the Pacific.

Cecily Spelling, solar schools project manager, 10:10, said: "It's been amazing to see schools all over the country benefiting from the power of the sun, especially in this weather.

"With 1,000 panels now installed it's only going to grow. We're currently finalising our list of schools for September and can't wait to see them bathe in the sunshine too."

For solar independence day, locations ranging from a housing estate in Northumberland, a stately home in Aberdeenshire, a community-owned solar farm and a waste facility in Berkshire will be showing off their clean power installations.

An increase in the amount of solar panels, with the latest statistics showing there are more than 709,000 solar installations across UK, and the glorious sunshine means solar arrays from large farms to home roof panels are supplying 16% of power needs this afternoon.

The solar industry has set out how it believes the Government can double the amount of solar and make it as cheap as fossil fuel electricity by 2020.

An ambitious programme to deliver two million homes with solar power, 24,000 commercial rooftops and 2,000 solar farms by 2020 and providing 56,900 jobs would cost around £13.35 on the average consumer energy bill by the end of the decade.

Though it would cost £350 million more than the Government's planned spending of just under £1.2 billion in 2020, it would deliver around twice as much solar capacity as current policies and would lead to solar being free of subsidies, the industry argues.

While solar panels are an intermittent source of power, a new generation of batteries - which home owners could install in their homes - will allow them to store the electricity they generate from the sun for use in the evenings.

Paul Barwell, chief executive of the Solar Trade Association, said: "It's great to see so many solar home owners and businesses get involved in solar independence day, showing how solar really gives power back to the people, allowing households and businesses to generate their own clean, green electricity.

"At more than 80% public support, solar has been shown in government opinion polls to be the country's most popular form of energy."

Energy Minister Andrea Leadsom said: "Solar is an integral part of the UK's energy mix. It's great to see industry initiatives like this boosting confidence and take-up, so hardworking families and businesses can benefit from low-carbon energy and lower bills."

Renewable electricity supplier Good Energy has opened the gates of its solar farm near Bude in Cornwall to the local community.

Chief executive Juliet Davenport said: "Solar power in the UK is an astonishing success story. Five years ago solar hardly existed in the UK, so it's amazing to see that today over 15% of the UK's electricity is produced by solar.

"The public has really got behind it, it goes hand in hand with farming and biodiversity, and best of all it doesn't pump carbon into the atmosphere."

Today's UK's solar power output is likely to be a record, but it is dwarfed by Germany's solar performance, where estimates suggest a huge 25 gigawatts of power were being generated by solar photovoltaic (PV) panels this afternoon.