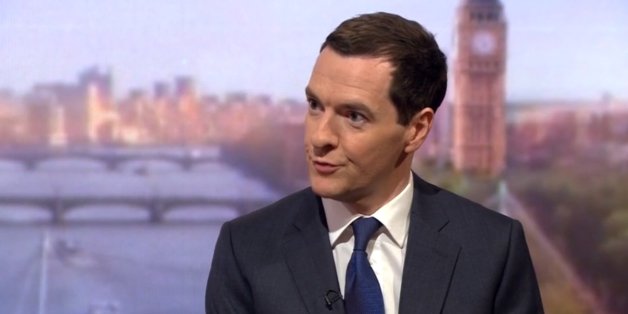 BBC
George Osborne today branded the BBC's website as "imperial" as he called on the broadcaster to make a "contribution" to austerity.
The Chancellor took aim at the BBC's online operation, claiming that within ten years it could crowd out newspapers which adopt a web-only model.
Speaking on the Andrew Marr Show on BBC 1 this morning, Mr Osborne singled out the BBC website as an area where cuts could be made to help make up any shortfall from falling licence fee revenue.
He said: "I think you are able to say to the BBC that things like, and this is more for the charter renewal, if you like at your website, what's the Times newspaper, of the Telegraph newspaper or the Daily Mail, or the Sun or the Mirror going to look like in ten years time? It's going to be an online paper, probably.
"Therefore, if you've got a website that's got features and cooking recipes and all sorts, effectively the BBC website becomes the national newspaper as well as the national broadcaster, and there are those sorts of issues which I think we need to look at very carefully."
He added: "You wouldn't want the BBC to completely crowd out national newspapers, and if you look at the BBC website, it's a good product but it is becoming a bit more imperial in its ambitions."
Mr Osborne's comments come amid reports the BBC will be forced to cover the cost of free television licences for over-75s.
Currently, the Department of Work and Pensions pays out £650million for the television licences, which are claimed by 4.5million households.
If the BBC has to fund the free licences out of its budget, it could be forced to make drastic cuts elsewhere in order to plug the more than half a billion shortfall.
Today, Mr Osborne was asked if he wanted to see the BBC focus on producing programming not touched by other broadcasters and move away from mass appeal shows such as Strictly Come Dancing.
He said: "I would absolutely want the BBC to go on making fantastic programmes like Strictly.
"You want the BBC to be producing popular programmes people want to watch. If you decide the BBC is only going to do niche things then it loses its argument."
Mr Osborne, who this week will deliver the first pure-Tory Budget since John Major was Prime Minister, added: "It does need to make savings and contribute to what we need to do as a country to get our house in order."