Students at the University College, London hijacked the institution's open day to protest against the decision to scrap a course on the philosophy of race and terminate a black research associate's contract.
Around 70 youths at the university gathered on the campus on Saturday to campaign on three issues - the ongoing UCL rent strike, fossil fuel divestment, and the discontinuation of Nathaniel Coleman's proposed course on white supremacy, the London Student reports.
Demonstrators showed support for Dr Nathaniel Coleman, who strikes a line through his surname as he says it was given to his ancestors by slave owners, after he was told he would not have his contract renewed.
Speaking to Buzzfeed, Areeb Ullah, a member of King's College Students' Union, said: "I'm whiting up to protest to the way UCL have treated some of its prominent black academics.
"For too long we've had to compromise as a community because our views would not be heard, forcing us to assimilate. Whiting up is a metaphor of the current state of affairs."
Students were also protesting at the university's decision to shelve a philosophy of race course, which would have been led by Coleman, who was Britain's first research associate in that area, and one of just five black philosophy academics in the UK today, according to the Independent.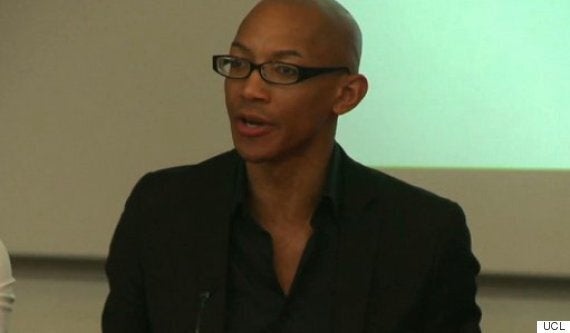 Dr Nathaniel Coleman speaking at UCL
On UCL's website, Coleman explains the decision behind his name: "A name is like a human body. It goes before you in the world; it enters the room, before you enter the room; it is produces a reaction in other persons, before you have even had the chance to produce a reaction in other persons..
"I also chose to do with my name what most persons only do with their bodies. I strike through my surname..
"One of my names was given to me by someone who hoped (in vain!) to own me: my parents were born in Jamaica, where persons enslaved-as-Negro were 'bred' in order to be owned.
"Thus, rather than highlight a title I might have lost (as Malcolm X did so effectively), I choose to highlight the stigmatising expressive meaning of the badge with which I must eke out my life."
Coleman previously claimed he was denied a permanent job at UCL because it would have put "white hegemony.. under the microscope".
"Turning the spotlight on to the ivory tower, putting the fear of God into many of its scholars – predominantly racialised as white – who had contented themselves hitherto to research and teach in an 'aracial' – aka white-dominated – way," he told Times Higher Education.
Professor Jonathan Wolff, dean of UCL Faculty of Arts and Humanities said: "The programme proposal for the MA entitled Race: Domination and Difference was rejected because it became apparent that UCL is not yet ready to offer a strong programme in this area.
"This means that a permanent associated job will not be established next year. We are not in a position to extend Dr Coleman's contract, which finishes in September 2015."