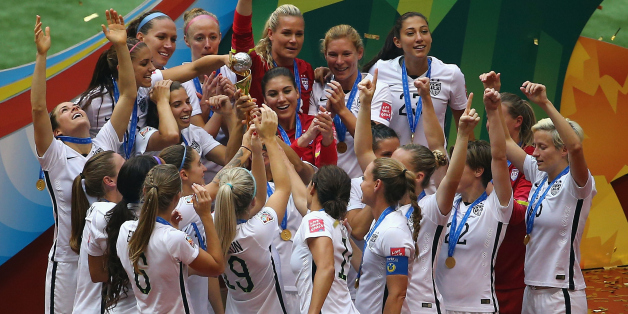 Maddie Meyer - FIFA via Getty Images
America's victory against Japan in the final of the Women's football World Cup was tainted by a tasteless Twitter trend, likening the match to the outcome of World War Two.
Pearl Harbor began trending in the US during the match and its aftermath as users made the shocking comparison.
A number of people seemed to think drawing the parallel was appropriate…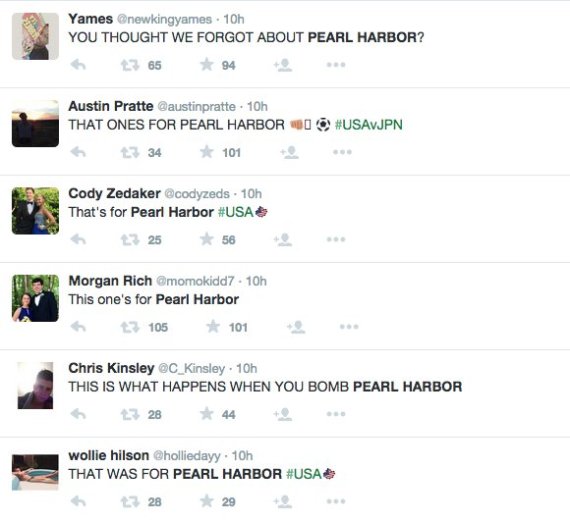 Seems like the U.S. are getting there revenge for pearl harbour.

— Red Sausa (@RedSausa) July 5, 2015
USA out here getting payback for Pearl Harbor

— Kent Murphy (@RealCoachKent) July 6, 2015
The American women clearly still upset about pearl harbour #payback

— scott lucas (@lucas1official) July 5, 2015
They destroyed our Pearl Harbor, we destroyed their dreams. #USAvJPN

— G-Sosa (@SeanGarcia92) July 5, 2015
Japan are going down like their bombers did during Pearl Harbour

— Dackinho (@DomGFCBallard) July 5, 2015
THATS FOR PEARL HARBOUR, YOU A-HOLES!!!!!!!

— Callum Gamble (@Gamble1878) July 5, 2015
But far more users were quick to blast those joining in with the trend…
Very disappointed that Pearl Harbour is currently a trending topic. This should be about the sport and the incredible athletes. #USAvJPN

— Jennifer Li (@jennniferli) July 6, 2015
why whenever something bad happens to japan do scum americans talk about "payback" for pearl harbour.... was 2 atom bombs not enough?

— mint oreos (@sikejonze) July 6, 2015
Hiroshima/Pearl Harbour jokes aren't big or clever, folks👎🏻 #FIFAWWCFinal

— Back Page Football (@bpfootball) July 6, 2015
The fact that Pearl Harbour is trending during the #USAvJPN game is horrible. Saying that it is revenge? Really.

— laina (@LaurmoneyKordei) July 5, 2015
Chill with the Pearl Harbour/WWII jokes

You aren't being funny, you're just showing everyone that you're trash

— MiLi (@milikhur) July 5, 2015
Some fantastically inappropriate tweeting about Kamikaze's, Pearl Harbour payback and sunken battleships tonight.

Stay classy lads

— Think Defence (@thinkdefence) July 5, 2015
Why do so many Americans lack class? #PearlHarbor is trending because of the soccer match. No wonder the world hates us. Grow up people!

— Aaron Denius Garcia (@AaronDenius) July 6, 2015
Search "Pearl Harbor" on Twitter for a ridiculous amount of stupidity from fellow Americans.

And people wonder why we're hated so much...

— Chris Yandle (@ChrisYandle) July 5, 2015
Pearl Harbor trending, atomic bomb jokes, and comments about "opening their eyes." Not cool, people. Be better than that

— Avi Saini (@AvikarSaini) July 5, 2015
The attack on Pearl Harbor was one of the darkest days in US naval history, with the loss of more than 2,500 lives.
The incident saw 353 Japanese aircraft, as well as submarines, battleships and destroyers, attack the US naval base on the island of Oahu, Hawaii.
SEE ALSO:
Sunday's match saw the US beat Japan 5-2 on Sunday before an estimated crowd of 53,341 in Vancouver, Canada.
Japan had beaten England's Lionesses, while the USA beat Germany to secure their places in the final.
Three of those goals were scored by Carli Lloyd, earning the only hat trick in Women's World Cup final history.
Four of those goals were also scored in the first 16 minutes,
Head coach Jill Ellis said after the match: "Pure elation. I'm just so, so proud of this team.
"I'm so happy for them, so happy for every little girl who dreams about this."