To mark the 10 year anniversary of the London 7/7 terrorist attacks, HuffPost UK is running Beyond The Bombings, a special series of interviews, blogs, in-depth features and exclusive research reflecting on how Britain has changed since.

In a show of solidarity and defiance in the face of terror, Londoners joined in the #WalkTogether movement on the anniversary of the 7/7 bombings today.
The movement began yesterday when father leaders from the Muslim, Jewish and Christian communities were joined by survivor Gill Hicks to walk together from King's Cross to Tavistock Square to launch the campaign yesterday.
#WalkTogether, started by think tank British Future, called on Londoners to get off their bus, train or tube one stop early and walk the last section of their commute in memory of those who died.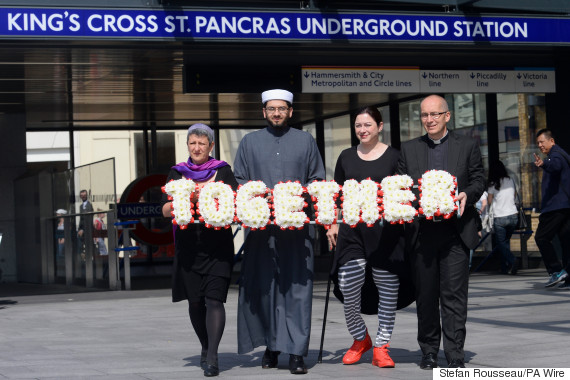 Gill Hicks (second from right) walks with leaders from different faith communities
Hicks, who was the last person to be rescued alive from the scenes of destruction left behind by the bombers, explained the campaign.
She said: "My life and those around me changed forever on July 7, 2005.
"I believe in the power and brilliance of humanity – my life was saved by strangers, people who never gave up, people who risked their own lives to save mine. To them, I was a precious human life – my rescue wasn't dependent on my faith, my colour, my gender or wealth.
"Walking Together allows us the time and space to talk, to share and to know the 'other'. Our unity can offer the strength to not only deter anyone from following the path of violent extremism, but to also build a sustainable peace."
Londoners were quick to respond to the campaign, with many touching messages of unity and remembrance…
Heading past Russell Square tube station just now,seeing a crowd of Londoners of all walks & races,made me well up. #walktogether #7July2005

— Schona Jolly (@WomaninHavana) July 7, 2015
Today we #walktogether. 10 yrs ago, dad kept my younger self company by phone from Cork as I walked(+cried)the 5 miles home from work in EC2

— Lynn Crowley/Canham (@wittyname) July 7, 2015
Embassy staff pics from #walktogether this AM, joining other Londoners to remember the victims 10yrs ago. pic.twitter.com/67sAZEi8Ia

— U.S. Embassy London (@USAinUK) July 7, 2015
#WalkTogether #7/7 #10yearson we will never forget, we will not be beaten RIP pic.twitter.com/DaRW5kzIm6

— Helen Alderson Eddy

(@wickednellie) July 7, 2015
A quiet, beautiful moment of reflection as I walk in #Hackney Downs Park remembering victims of 7/7 #walktogether pic.twitter.com/wl26nVeM2I

— A Cog of Change (@acogofchange) July 7, 2015
Remembering all the love ones we lost 10 years ago! So proud to be a Londoner and we will not be beaten! We #walktogether

— Nico Aaron Ugbaja (@NicoAaronUgbaja) July 7, 2015
It's a good day to #walktogether in memory of the 7/7 bombings in London pic.twitter.com/SqsfyeF9ne

— Mike Butcher (@mikebutcher) July 7, 2015
St. Paul's to London Bridge. #WalkTogether pic.twitter.com/cNDZK7hzlY

— Kate Malyon (@KateMalyon) July 7, 2015
Remembering those you lost there lives in 7/7 attacks 10years ago! #walktogether I got off a stop early! pic.twitter.com/hFGoedip2M

— Ryan Curtis (@Rcurtis25) July 7, 2015
#walktogether along Embankment. So proud of this city. #77anniversary pic.twitter.com/epKzMd1aLK

— Joseph Barnsley (@joe_barnsley) July 7, 2015
Ten years ago they tried to break our city and our spirit. They failed. Remembering those that need it most today #walktogether #7/7

— Guy Hornsby (@DropoutLondon) July 7, 2015
Stepped back into my commuter shoes and walked the bike the last stop to Chancery Lane this morning. Remembering. #walktogether

— Nico Hogg (@crashthepips) July 7, 2015
Walking to work today, as I did 10 yrs ago. #HopeNotHate #WalkTogether pic.twitter.com/cMVr9pIJ3b

— Nigel Freeman (@nfree_man) July 7, 2015
MORE BEYOND THE BOMBINGS