A baker whose Frozen Queen Elsa cake went viral for all the wrong reasons has responded to online criticism saying 'maybe Elsa was getting back from rehab.'
The baker came under fire on Reddit, where the cake was originally posted with the caption: "The cake that was ordered and the cake that arrived."
Turns out the baker, known only as Lisa, actually works with an organisation called Icing Smiles, whose volunteers provide custom celebration cakes to families who have been impacted by the critical illness of a child.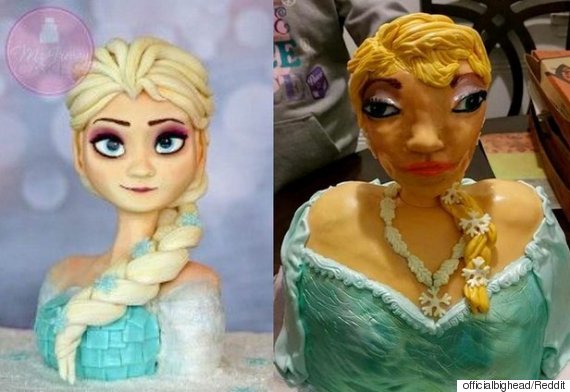 In an emotional Facebook post, Icing Smiles' founder, Tracy, wrote: "What has happened in the last few days as a result of a popular cake blog has caused me to ride a roller coaster of emotion.
"Unless you have been in a cave, you know that one of our cakes was unfavorably compared against the INSANELY talented work of McGreevy Cakes. It has gone viral and it broke my heart.
"My heart broke for the baker because I know how much of herself she puts into her donations. My heart broke for the family should they come across the posts because it may take from their joy of receiving the gift.
"Our Sugar Angel wasn't commissioned to copy Shawna's work, she was asked for a Frozen cake for a sick child and she did just that."
She went on to say that Lisa responded 'graciously' to the reaction to her cake, and replied to comments with 'humour and self-depreciation.'
The Facebook post, that has now had over 17,000 likes, received a hugely positive reaction.
One commenter, Rachel Copas, wrote: "The bakers that make these cakes put so much hard work into making them for our loved ones and they don't ask for a penny.
"Shame on anyone who wouldn't appreciate the hard work that has gone behind this cake."
Another, Da'Neil Spencer, said: "I had not heard of your organisation until today. After seeing the origin of the Elsa cake, I will be signing up as a volunteer.
"What a wonderful service you all provide! You made a child smile, Lisa. That is all that matters!"
The baker behind the original cake that Lisa's was compared to, also took to Facebook to comment on the situation.
I'm being asked by... everyone, what I think about the recent posts/articles about my Elsa cake and another baker's Elsa...

Posted by McGreevy Cakes on Monday, 6 July 2015
We sure won't be taking any Pinterest Fails at face value from now on!