A man has been arrested after flying over the city of Calgary in Canada on a deck chair attached to a bouquet of balloons.
In scenes that are reminiscent of Disney's "UP" he used 110 plastic inflatables to launch himself into the sky.
The 26-year-old attempted the life-threatening stunt to promote his cleaning products company.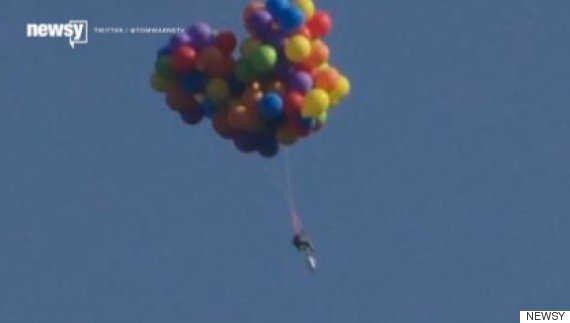 Up... up... and away!
Daniel Boria told CBC news: "At one point I was looking up at the balloons, they were popping, the chair was shaking and I was looking down at my feet dangling through the clouds at a 747 flight taking off and a few landing."
Boria intended on flying himself to the Calgary Stampede, an annual two-week rodeo, but the weather didn't cooperate, so he parachuted to the ground about a mile from the event.
Police were not impressed by the balloon man's stunt and upon his landing he was detained for the evening but was later released in the morning.
SEE ALSO:
Man flies balloon-powered lawn chair over #CalgaryStampede

http://t.co/vynVSeJraHpic.twitter.com/4WuLDjhJA6

— TorontoStar (@TorontoStar) July 7, 2015
He was charged with one count of mischief causing danger to life.
Boria told CBS news: "I knew I would get arrested, but I didn't think they would pursue it as heavily as they did.
"I've never done anything wrong before and this was with good intentions."
This is not the first time someone has tried the stunt, in 2012 two men in Oregon attempted to fly to Montana on a chair lifted by balloons, but they had to land early due to a thunderstorm.