Midge Ure is relieved that he made it as a pop star when he did, because he thinks the 1980s had the best pop songwriters ever, and that songs released now are "too polished, and written by committee".
The Ultravox frontman who also co-wrote the record-breaking Band Aid single back in 1984, tells HuffPostUK why he thinks that decade's tunes remain ever hummable.
"It's a huge generalization, but the 1980s was in that leftover punk era, where everyone was expressing themselves differently. A decade's a long time, and you had everyone in it from Japan to Kylie.
"I genuinely think the 1980s had some of the best songwriters ever. We had the same tools then as now, but the song quality was exceptional, we had all these fresh ingredients."
Midge enjoyed great success, both as a solo artist and bandmember – moving from Slick to Rich Kids, to Visage, to Ultravox. "I've never adhered to categorization," he tells us. "I always found it easy to cross over."
But he thinks there was a delightful naivety to those days absent now. I as him about the stunning video to Ultravox track 'Dancing With Tears in My Eyes' as an example. A song with the classic paradox of upbeat tune and terribly sad lyrics, it became a massive hit after 'Top of the Pops' played the video of a man trying to find his lover in the shadow of nuclear threat. Midge laughs at the memory.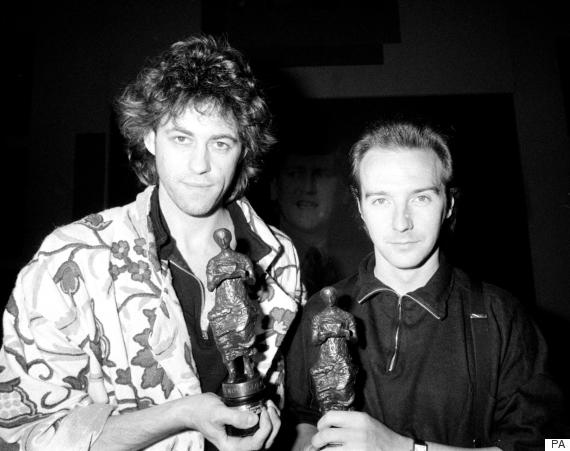 Midge Ure with his Band Aid co-writer Bob Geldof
"We had no idea that was going to happen," he tells me. "Someone dropped out of 'Top of the Pops' so they used it, and the reaction was overwhelming.
"Back then, there was a naivety to it all, you were pretty much allowed to do what you wanted.
"These days everything's polished, controlled, written by a committee. You have 20 people working together on a chorus. And something's been lost."
Midge is currently on solo tour, where he is mixing it up between his biggest hits and his lesser-known stuff, including songs from the album 'Breathe', what Midge calls his delicate, atmospheric stuff.
His arguably most epic song, 'Vienna', was kept off the number one spot, first by a comedy song, and then by John Lennon, but Midge says it was a dream just to be at number two. These days, he says, the dream is still being allowed to do what he has always loved best – singing and performing.
"Survival in this industry is the biggest achievement of all," he explains. "To be allowed to carry on doing it for 40 odd years, without selling your soul to the devil. And, in an age when an artist can generally last three to five years, to be allowed to carry on is such a pleasure."
Midge Ure is currently on a solo tour and will be joing the 80s invasion with Big Country, Nick Heyward and Curiosity Killed the Cat in March 2016. Ticket information here.
And here's a Midge anthem to be getting on with...
LIKE US ON FACEBOOK | FOLLOW US ON TWITTER