The Russian Federation's Ministry of Internal Affairs has issued a set of guidelines hoping to teach young people how to safely take selfies.
The poster for the campaign resembles the safety cards onboard aircraft and warns the tech-savvy to avoid taking pictures with guns, on train tracks, on the edge of buildings or in front of bears.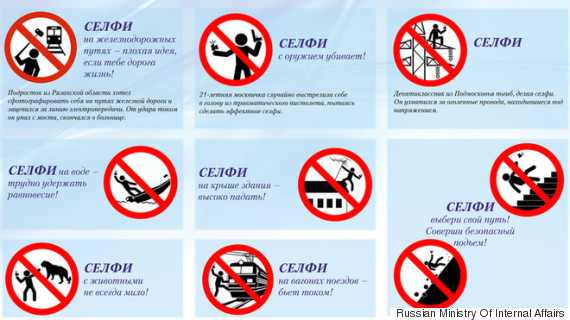 "A cool selfie could cost you your life," the pamphlet reads.
The campaign comes after a spate of worrying selfie stories from Russia, including a woman who accidentally shot herself in the head while posing with a loaded gun and a 17-year-old girl who fell to her death taking pictures on a railway bridge.
In January 2015, two men suffered untimely deaths when taking a selfie with a hand grenade. According to the BBC, there have also been multiple cases of young people being electrocuted while taking pictures atop train carriages.
"Unfortunately we have noted recently that the number of accidents caused by lovers of self-photography is constantly increasing," said Yelena Alexeyeva, aide to the interior minister.
"Since the beginning of the year we are talking about some hundred cases of injuries for sure.
"Today technical advances do not stand still, but with all the advantages there are new challenges and threats. Our booklet reminds you of how to take a safe selfie, so it is not the last one you will ever take.
"Before taking a selfie, everyone should think about the fact that racing after a high number of 'likes' could lead him on a journey to death and his last extreme photo could turn out to be posthumous."
SEE ALSO: