It was a strangely subdued Clare Balding who returned to BBC2 last night with a clearly revamped version of 'Wimbledon 2Day'.
Following the clamour of criticism from viewers and TV writers alike, Clare and her set had been moved from the gaudy Gatsby Club to the more familiar surroundings of a TV studio, and with no live audience anywhere to be seen.
Whereas guest John McEnroe had laughed off the doubters live on air last week - "They've got it in for us, Clare" he joked - the presenter herself seemed unable to join in the joke.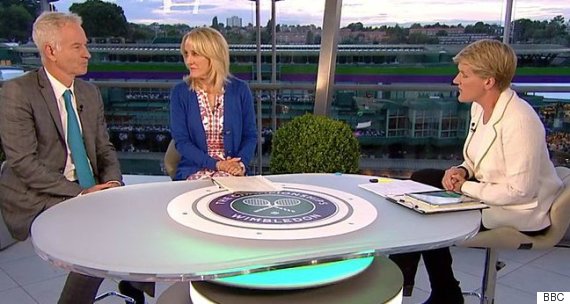 Clare Balding and her set were moved to the more familiar pastures for the revised Wimbledon highlights programme
Opening the programme, she didn't even look straight at the camera for the first five minutes of the show, preferring to concentrate on her guests, a returning McEnroe and fellow pundit Tracey Austin.
And she made no reference to the revamp or the storm of protest that had prompted it, only saying instead...
"We're at the business end of the tournament, and because of that we've moved even closer to the centre of the action - on the edge of Centre Court."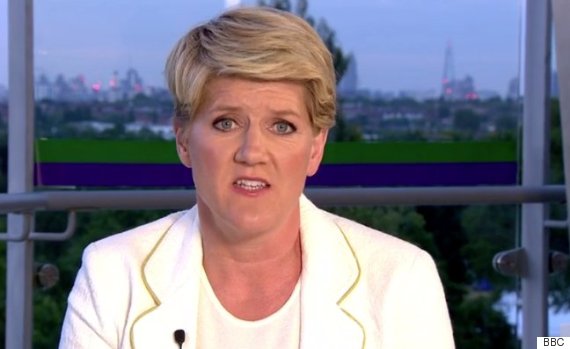 It was a full five minutes before Clare Balding looked directly at the camera on last night's highlights show
There was barely any chat throughout the rest of the programme, which concentrated on the tennis matches of Andy Murray, Novak Djokovic and Roger Federer. Nor did Clare include the segment #anyonefortennis, which had invited viewers to send in footage of themselves having a knock.
Judging by last night's show, the message was clear by the BBC, and it was... message received.
It would have been nice to see Clare Balding tip a wink to the debacle surrounding the programme, though. Her presenter status has taken a bit of a battering to be sure but, as Andy Murray would no doubt be the first to remind her, we're only half-way through the tournament and there's still a lot to play for...
'Wimbledon 2Day' continues tonight at 8.30pm on BBC2.
LIKE US ON FACEBOOK | FOLLOW US ON TWITTER