George Osborne has announced he will slash maintenance grants and convert them into loans for some of the country's poorest students in his Budget address on Wednesday.
Presently, students in England and Wales from families with an annual household income of £25,000 or less are awarded a maintenance grant of £3,387 a year to cover living costs.
He said: "There's a basic unfairness of asking taxpayers to fund the grants of people who are likely to earn a lot more than them.
"The last Labour government actually abolished these grants, before reintroducing them, and now they've become unaffordable.
"If we don't tackle this problem then our universities will become underfunded and our students won't get places – and I'm not prepared to let that happen.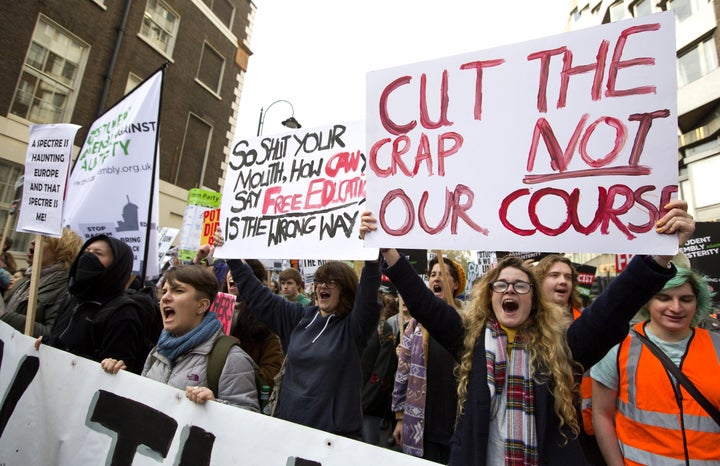 Students protest the raising of tuition fees
"So, from the 2016-17 academic year we will replace maintenance grants with loans for new students – loans that only have to be paid back once they earn over £21,000 a year.
"And to ensure university is affordable to all students from all backgrounds, we'll increase the maintenance loan available to £8,200 – the highest amount of support ever provided."
He went on: "To ensure our university system is sustainable, we'll consult on freezing the loan repayment threshold for five years – and we'll link the student fee cap to inflation for those institutions that can show they offer high-quality teaching.
"It's a major set of reforms to make sure Britain continues to have the best universities in the world.
"It is fair to students. Fair to taxpayers. And vital to secure our long term economic future."