A 48-hour strike by workers on First Great Western (FGW) is due to begin on Wednesday evening.
The strike, over jobs and maintenance of new Hitachi trains, will affect services between London and Wales and the West Country.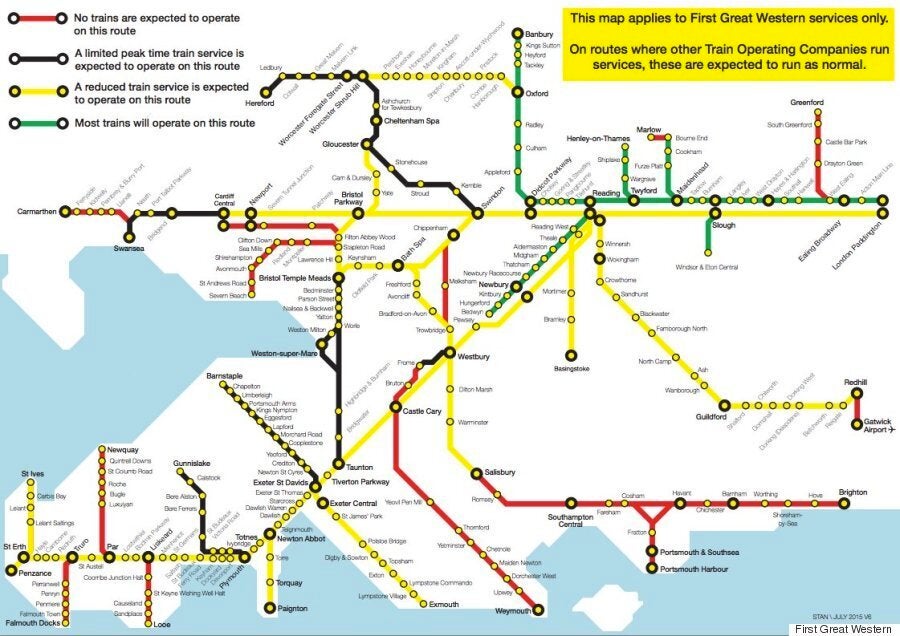 This map shows the routes affected by the FGW strike
There will be some minor alterations to services on Wednesday 8 July from 6pm. Services on Thursday 9 July through to the start of Saturday 11 July will be significantly impacted.
Cricket fans going to Cardiff for the Ashes Test are among those affected.
The National Union of Rail, Maritime and Transport Workers (RMT) has accused FGW of "playing for time" in the talks and of "going through the motions" rather than addressing the issues.
The RMT said it is campaigning to avoid job losses, keep a safety-competent guard on every train, maintain buffet car facilities and ensure that the maintenance of new rolling stock remains in-house.
General secretary Mick Cash said: "RMT has made every effort to secure a series of very basic assurances from FGW over jobs, services and safety as a result of the introduction of the new Hitachi fleet and they have shown no intention of addressing those issues in the talks today.
"RMT is angry and disappointed that the company have ignored the massive vote for action by their staff and have instead opted to plough ahead with a series of actions that will decimate jobs, services and safety. As a result of FGW collapsing the talks in this cavalier fashion the action goes ahead as planned.
"It is frankly ludicrous that East Coast, who are introducing the same trains, have given us the assurances we are seeking but FGW have ignored us and are crashing on with the ripping out of buffet cars and the threat to safety-critical station and train staff purely to maximise the profits from new trains bought for them by the British taxpayer.
"RMT will be out at stations this week with a public campaign to expose this shabby and profiteering treatment of both passengers and staff alike by a company that already has one of the worst reputations in the industry for milking the rotten rail privatisation racket for every penny they can."
An FGW spokesman said: "All we want is to make sure our services give the best possible deal for our passengers. These brand new trains have been designed to deliver more seats, and faster, more frequent journeys for passengers - but we can't deliver those if they are operated in the same way as the 40-year-old trains that run today.
"We have already made assurances about job security and commitments to increase the number of staff on board Super Express Trains.
"Today we have made a number of additional commitments that we believe meet the concerns of the RMT, while still allowing us to deliver the improvements our customers want to see.
"While it is disappointing that the RMT were not able to take this proposal away today, we believe a negotiated solution to these proposals is possible, and are keen to continue discussions as soon as possible."
Related