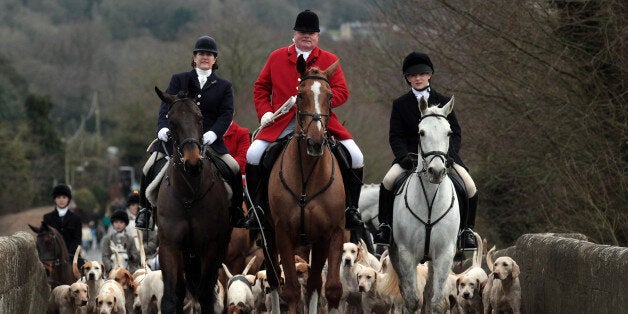 The foxhunting ban could be severely watered down as soon as next week as David Cameron plans to allow a free vote on the controversial issue.
Using a piece of parliamentary procedure known as a statutory instrument, the Government will be able to make significant changes to the Hunting Act without the weeks of debate a full repeal would entail.
The changes would make it legal for foxes to be hunted by a pack of hounds for pest control purposes – currently the law permits just two hounds can be used to flush out a fox to be shot.
Robbie Marsland, director of the anti-hunt group the League Against Cruel Sports, said: "This is nothing but sneaking hunting in through the back door.
"By amending the Hunting Act like this, the government are deliberately and cynically making it easier for hunts to chase and kill foxes, and harder for them to be convicted when they break the law.
"This is not about hunting foxes for pest control. It's about hunting foxes for fun.
"David Cameron pledged to hold a free vote on bringing back hunting but clearly they know they couldn't win. So now they are using deception to fool the public."
He added: "The hunts don't want to shoot the foxes, they want to chase them and see them ripped apart by hounds."
The Huffington Post UK understands that a free vote on the new statutory instrument could be held early as next Thursday, just a day after the 'English Votes for English Laws' (EVEL) change is introduced to the Commons.
A Government source told The Huffington Post UK that EVEL changes won't be in effect by the time of the vote, so Scottish MPs will still get a say in any changes.
The Tories vowed to give MPs a free vote on whether to repeal the 2004 ban in its General Election manifesto.
However, the small size of the Government's majority could see any repeal measure being defeated, which would effectively lay the matter to rest for another ten years.
Countryside Alliance executive director Barney White-Spunner welcomed the news and said: "This is positive news. It is a step forward and would mean that farmers and hunts will be able to use packs of hounds to find and shoot foxes. Traditional hunting will, though, remain illegal.
"These amendments would bring the law into line with Scotland and ensure that farmers are able to choose how to manage the fox population in the most effective and humane manner.
"We still believe that the Hunting Act needs to be scrapped, but in the circumstances these amendments meet the immediate needs of the rural community.
"There is solid support for hunting amongst MPs and we believe that there will be a majority for these logical, evidence-based changes."