Hundreds of creatives are now facing an uncertain future as they say an emotional goodbye to 'life-changing' arts charity IdeasTap, which closes its doors for the final time today.
The charity was founded in 2008 by philanthropist Peter De Haan in lieu of taxpayer support to those interested in careers in the arts and creative industries. Since then, they have offered over £2.3m in mentoring and funding opportunities, as well as training, advice, job listings, and a range of networking events to over 190,000 members. Their projects saw them collaborate with the British Film Institute, the National Youth Theatre, Sky, and offer the Edinburgh Fringe's annual Udderbelly award.
In a letter published by The Huffington Post UK, De Haan said that " we simply do not have the funding to continue," and admitted that attempts to secure government and corporate support had failed, and his charitable trust was about to run out of money.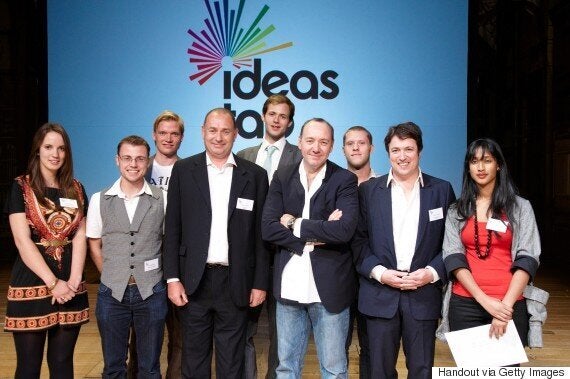 IdeasTap members meet Kevin Spacey
The news was met with collective shock and dismay by the arts community, who immediately launched a #SaveIdeasTap campaign to draw attention to the ways in which the charity had helped them.
Poet and performer Sabrina Mahfouz wrote in The Guardian that she owed her career to IdeasTap, and the news of its closure was "extremely disheartening; especially as it comes at a time when young people face such a multitude of challenges in pursuing the career they want."
It was subsequently announced that IdeasTap would be absorbed by Hiive, a new professional networking site for creatives, which is funded by Creative Skillset. In his HuffPost UK blog, Hiive's editor Ciaran Burke described IdeasTap as "the industry leaders...an organisation we've been inspired and influenced by whilst working on Hiive".
However, whilst the partnership enables IdeasTap's funding opportunities to be hosted on Hiive's site, the organisation as a whole will no longer operate as of today.
In an impassioned blog post, IdeasTap member and beneficiary Ben Norris wrote that the closure acts as a renewed call to arms for the arts community to resist having their work defined in purely economic terms.
"It's about its cultural value (for which our Isles are justly famed)," he writes. "What's the point of being alive, and having piles of money to roll around in, if we can't examine what it is to be alive, and what that life means. Science and finance are how we live. Art, relationships, communication, and culture are why we live."