With a Tube strike set to get underway on Wednesday afternoon, some Londoners have taken to Twitter to remark upon the decision to stage the walk-out just a day after the 10th anniversary of the 7/7 bombings.
Around 20,000 members of the RMT, Unite, TSSA and Aslef are planning 24-hour strikes in a dispute over the new all-night service set to operate across London from September.
The timing means the London Underground stands to grind to a halt just a day after the capital united to commemorate the victims and heroes of the attacks which saw four suicide bombers target its transport network.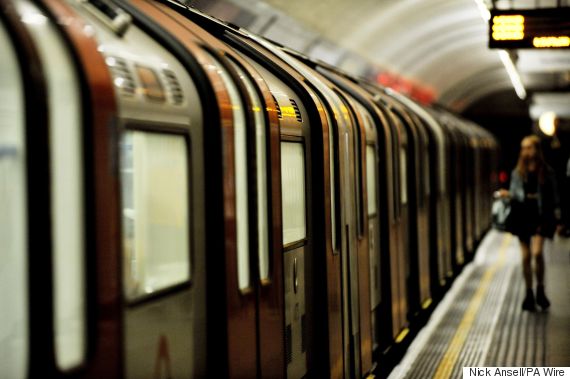 Sun managing editor Stig Abell rather summed up sentiments in a tweet which pointed out: "7/7: Wonderful celebration of – among other things – London's ability to keep moving whatever the circumstances.
"8/7: Tube strike."
7/7: Wonderful celebration of - among other things - London's ability to keep moving whatever the circumstances.

8/7: Tube strike.

— Stig Abell (@StigAbell) July 7, 2015
Here are some other people who are rather unimpressed with the timing...
Pretty shocked that Tube workers chose day after 7/7 commemorations to strike. How to look petty in one easy lesson #Tubestrike

— Christina Patterson (@queenchristina_) July 7, 2015
Tube strike, no stress = two days working from home and saved on tube fare. Disgusting timing of strike a day after 7/7 though #TubeStrike

— Rachel B (@msrachy101) July 8, 2015
Given the anniversary of 7/7 a tube strike so close is just in poor taste ... #TubeStrike @UniteUnion @RMTunion

— Freddie Ben (@Freddie_Ben) July 8, 2015
This #strike happening less than 24hours after #7/7 is not respectful at all https://t.co/EDgOTAZz2y

— Lee Parker (@LeeParkerr) July 7, 2015
Whos great idea was it to have the #TubeStrike the day after #7/7 , I can't be the only 1 that thinks that's poor taste

— Sharna Wright (@sharnamwright) July 8, 2015
I do think it's a little disrespectful to hold a #tubestrike one day after the 10 year anniversary of #7/7 #justsaying

— Becky Hancock (@BexHancock) July 8, 2015
I used to support the tube strikes, but not this one. It seems to be just greed and bullying. Sickened by the timing after 7/7. #TubeStrike

— Lucinda Hawksley (@lucindahawksley) July 8, 2015
Highly insensitive for ASLEF to call a tube strike 24 hours after the 10th anniversary of 7/7. Disrespectful & a complete lack of class

— tony scott (@tony510scott) July 7, 2015
Some however have pointed out the timing may well rest in the hands of TfL, which runs London Underground. Legally, unions are required to provide seven days notice before striking and indeed the action was being touted as far back as mid July.
Christopher Bull tweeted: "so @tfl presented an offer at the last minute on 7/7 after months of silence, and the unions get blamed?? #TubeStrike"
so @tfl presented an offer at the last minute on 7/7 after months of silence, and the unions get blamed?? #TubeStrike

— Christopher Bull (@christopherbull) July 8, 2015
And others have detailed that while strikers are being "demonised" because of the action, many of the same London Underground staff were feted as heroes on 7/7 for their bravery during the bombings.
Tube staff are rightly being described as heroes today (7/7). Remember that tomorrow when they will be demonised as villains #tubestrike

— Reuben (@PastReuben) July 7, 2015
#walktogether - support the workers - don't moan about the Tube strike - the Tube workers were the true heroes of 7/7 -

— Tim-A-Roberts (@Tim_A_Roberts) July 8, 2015
Remember all those drivers they were praising for 7/7 are the ones they are moaning at for striking today. Show some solidarity #TubeStrike

— Andrew Silvester (@andysilvester42) July 8, 2015
London Underground managers have tabled a "final" offer, including an average 2% rise this year, at least RPI inflation for each of the next two years and £2,000 for drivers on the new all-night service.
Mike Brown, managing director of LU, told the Press Association he was "gutted" that the unions had not responded to the "fair and reasonable" offer.
"It would have been good if we could have had some talks, because none of the unions responded to the offer.
SEE ALSO:
"If they are not prepared to talk to us they should go back to their members because this is a vastly different offer.
"All we have heard is a series of speeches from trade union leaders, condemning us for communicating with our staff.
"The offer is still there and we are available to talk about it. I am amazed we have had no response."
RMT general secretary Mick Cash said: "Despite strenuous efforts by union negotiators to press London Underground to address the issues of fairness, safety, work/life balance and equality at the heart of this dispute, they have come up with nothing in the talks.
"The action is on and RMT will be mobilising picket lines and effective action with our sister unions and there are no further talks planned at this stage."
Finn Brennan, Aslef's organiser on the Tube said: "The responsibility for this strike and the disruption that it will cause rests squarely with London Underground management .
"They squandered the window of opportunity to resolve this dispute by refusing to move their position in the slightest for three months and then demanding that all four trade unions accept an offer in one afternoon. They have played foolish games of brinkmanship, taking their offer off the table then denying they had done so.
"Aslef members voted by over 97% on a turnout of more than 81% to take strike action to protect their work life balance and working conditions. Money has never been the key issue in this dispute - ensuring that change is negotiated rather than imposed and introduced in a fair way has.
"Attempts to brand it as political and using tired cliched attacks on trade unions are simply an effort to distract attention from London Underground's inept handling of negotiations.
"We will be ready to return to the negotiating table on Friday morning to ensure that further action can be avoided."