'Wimbledon 2Day' wasn't exactly a huge success when it was launched by Clare Balding last week, however, it seems that the public are in favour of the mid-tournament revamp, as the show's viewing figures have doubled, week-on-week.
The new format replaced the traditional 'Today At Wimbledon' show, although Clare and co were met with a lukewarm reception from viewers upon its debut.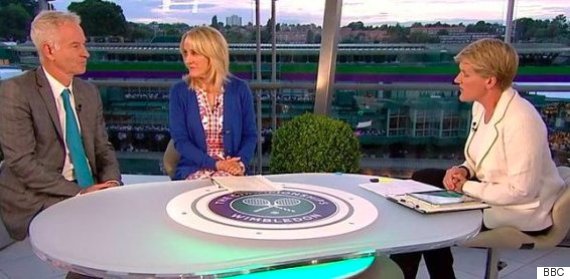 The new look show
However, after a huge revamp that included a studio change, and the audience being ditched, viewing figures have doubled, with Monday's show pulling in more than 2.2 million, versus last week's average of 1.3 million.
The format changes came after pressure from the public. Plenty of fans took to Twitter to slam the show after its launch, and a BBC spokesperson responded, stating: "Of course we listen to audience feedback and that helps to shape the changes we make."
Outside Clare's studio, thousands of fans have been enjoying the annual tournament, including a number of celebrity guests.
On Thursday, David and Romeo Beckham enjoyed some father-son bonding in style, watching Andy Murray on Centre Court, while Bradley Cooper cheered on quarter-finalist Roger Federer.
See the best snaps from Wimbledon below…
LIKE US ON FACEBOOK | FOLLOW US ON TWITTER