As Didier Esteyne's battery operated plane took to the skies to fly across the English Channel today, the world eagerly watched aviation history being made.
The Airbus Group's E-Fan 1.0 plane flew from Lydd in Kent to Calais in a journey that took less than 40 minutes.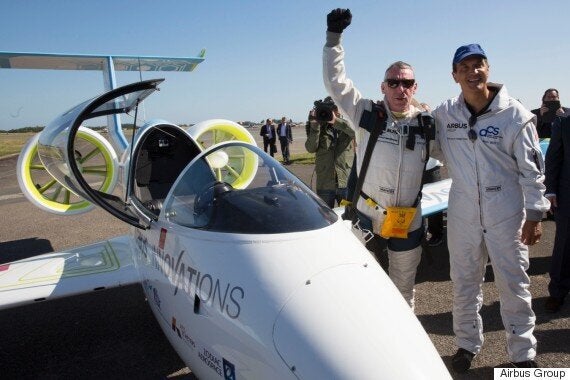 However, Esteyne's victory was celebrated under a shadow as another French pilot, Hugues Duval, argued that he had already made the trip on Thursday night.
Speaking about the row to the BBC, Esteyne said: "I don't have to talk about that. We did something today. It's important to us and that's the most important thing."
The twin-engined plane that made all this possible, has two seats, a 31-foot long wingspan and a total engine power of 60 kiloWatt.
Esteyne described the experience of flying the plane as being "closer to a glider because there is less noise than an aeroplane. Also, there is no vibration at all. It's smooth and very quiet."
The project itself has taken 18 months from conception to take off, with the plane undergoing 100 test flights to ensure its readiness.
Prior to the journey, Simon Bradley, head of global innovation network at Airbus Group said:
This is a really exciting project for us. It's the first time that an all-electric aircraft will have flown across the English Channel and mirrors the flight by Bleriot in 1909.
"We take a lot of inspiration from Bleriot. In fact, Bleriot made up one of the first ever companies that has since become part of the Airbus Group.
"All of the people involved in this project are fantastically passionate and I hope that in 20 years' time this day will have a marker in our timeline."
Today's flight is as significant as the first time French pilot Louis Bleriot flew across the channel in 1908 as it will most certainly help the aviation industry's quest to move towards using clean energy.
However, both Esteyne and Bradley are quite reserved in how fast this change will be achieved.
Esteyne explained: "I can say that we are probably building a part of aviation but not all of it.
"We are not able to say now what will happen in five, eight or 10 years but for sure it is an interesting development."
Popular in the Community