Is this the future of flying? A French company has designed a face-to-face seating plan for economy class on airplanes.
Zodiac Seats' latest patent features squeezed together chairs which alternate between facing forward and backwards.
The seating proposal was formulated to increase cabin capacity on aircrafts and can improve legroom for passengers injecting up to four more inches for each customer.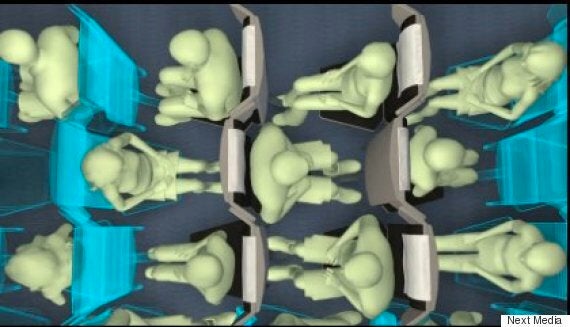 The seats fold up to allow passengers to access the window
The French manufacturer is one of the world's largest airline chair makers and they claim that the design can increase space for both the shoulder and arm areas.
Zodiac seats have named the collection 'economy class cabin hexagon' and on their website they state: "The project is a response to the problem of increasing the number of passengers in a single-aisle aircraft cabin"
The company also released a video along with the announcement:
The chairs in the craft fold-up in a theatre style, allowing passengers to get from one side of the aisle to the other and are designed primarily for smaller, single-aisle planes to be used for short-haul flights.
There are currently no plans to put the new design into production, so facing your fellow passenger in the face might be a long time off yet.
Unfortunately reaction to the newly released patent has not been positive thus far...