Car ads are usually (a) dull or (b) too flashy for their own good, so we had high hopes for Hyundai's attempt to break the mould with a comedy-based clip starring our very own Kelly Brook.
But things didn't quite work out as well as we'd hoped.
Kelly, fresh from her cancelled US sitcom 'One Big Happy', gives it her all in the five minute video, but unfortunately our toes were curled up tighter than a Tom Cruise prenup within the first few seconds.
The commercial stars a bickering, engaged couple Debbie and Dan, who arrive at a Hyundai showroom to see the latest model.
But as George the salesman introduces the two versions of the i20 to the couple, much bickering ensues.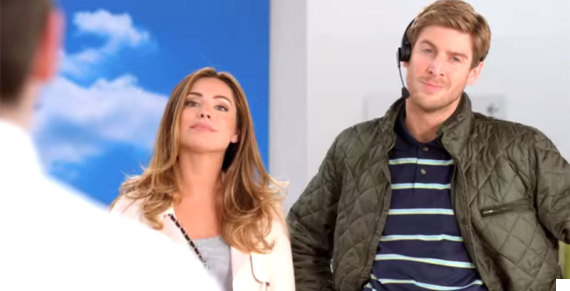 Example line: "Yes, she is seeking my seed for fertilization…and then gestation…and then a humanoid."
Oh dear.
And here's another: 'So are you planning on starting a family?' 'Are you saying I look pregnant? Did you just look at my belly?'
Comedy gold it ain't.
But don't just take our word for it, watch the full ad for yourselves above and let us know what you think by leaving a comment below...
LIKE US ON FACEBOOK | FOLLOW US ON TWITTER