How would you react if someone stopped you in the street and asked you on a date?
If you hadn't had the chance to pre-approve your meeting through a series of left/right swipes? If you hadn't engaged in three days worth of small talk? If you hadn't already had a conversation about what you want in a relationship?
Incredible new short film, 'Offline Dating', shows exactly how people react when they're put in that situation, and it might surprise you.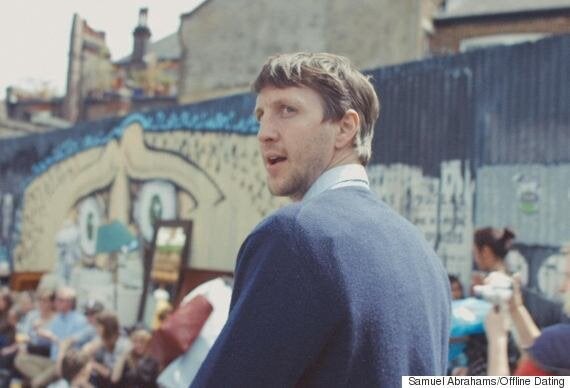 Tom Greaves, the actor in Offline Dating
BAFTA nominated director Samuel Abrahams, got his friend, actor Tom Greaves, to approach every girl he fancies in real life situations and ask them out on a date. No apps, no texts, just good old-fashioned conversation.
Samuel told HuffPost Lifestyle: "Tom and I were having a chat one night, we were newly single and we were talking about the state of dating these days.
"I was working on a few ideas that explored the theme of the connected world and it just kind of struck me that it would be an interesting challenge. Just to go out in the real world, much in the same way that you would on Tinder."
Tom added: "Sam suddenly came up with this idea -- what if I filmed you going out and trying to find a date in person? I didn't really think about it. I just said ok."
Thus, the idea for Offline Dating was born.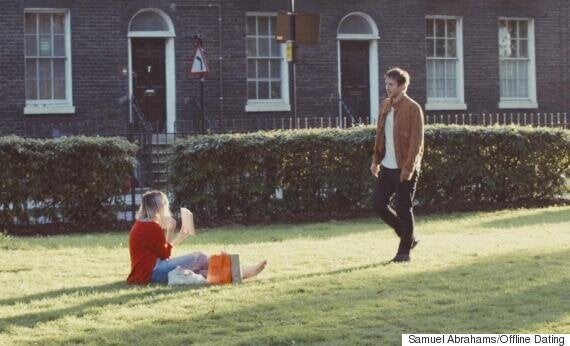 Tom approaching a girl for a date in Offline Dating
The girls who were approached during the video weren't always receptive to Tom's advances, and the rejections outweighed the acceptances.
"I didn't think 'oh yeah this is going to be easy' but I didn't realise how much I'd be rejected," said Tom. I didn't have any expectations but that was something that hit me initially. It was pretty demoralising.
"But as an actor, you have to deal with rejection a lot anyway. You have to come to terms with 'no sorry'."
Tom hopes that the film says something about meeting people -- 'not just to date them, but to get to know them as friends.'
As for Samuel and Tom, they're both advocates for getting to know potential partners offline.
Samuel met his partner at a festival. They were both dancing when they struck up a conversation. They've just bought a house together in Walthamstow.
Tom isn't on Happn anymore. He's going out for coffee this week with Micki, the girl from the film who invited him to a barbecue at her house.
He said: "I'll stay offline. I don't see any reason to go online. In the area where I'm living [East London] you can meet someone on your doorstep. I met Micki in the Costcutter that's 25 yards away.
"You don't need Happn! If you wanted to you could meet someone anywhere -- if you put your mind to it. You can. It doesn't need to be this thing that you're fitting in.
"Meeting people offline is more honest. I think you're giving yourself, that is you. What you really look like. There's no pictures, you can't disguise that. Your energy, the way you move, your voice. Your rhythm. There's something about you that you can't come across online.
"It's all about being open to it."
He promised to keep us updated.