A host of A-list names from the world of entertainment have signed an open letter to David Cameron calling on him to protect the BBC from further cuts to its services.
James Bond actor Daniel Craig, his colleague in the long-running 007 franchise Dame Judi Dench, QI host Stephen Fry and veteran broadcaster David Attenborough are among those to have added their names in support.
Other signatories, including author JK Rowling, comedian Miranda Hart and new Top Gear presenter Chris Evans, have called on the Prime Minister to ensure his Government does not "turn it into a narrowly focused market-failure broadcaster".
They added: "A diminished BBC would simply mean a diminished Britain. Like all organisations, it has its faults but it is overwhelmingly a creative force for good."
The twenty-nine went on to describe the corporation as "the envy of the world".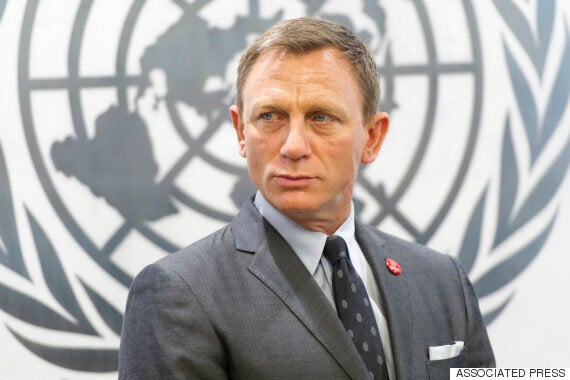 Actor Daniel Craig, seen above attending a ceremony in New York, has called on David Cameron to spare the BBC from further cuts
Wednesday's intervention comes as a government green paper - published on the same day - is expected to call for a narrower range of programming and an examination of the future of the licence fee.
BBC director-general Tony Hall has criticised plans to reduce the corporation's commercial activity, unveiling moves that would generate up to £1 billion from best-selling shows such as Doctor Who and Top Gear.
Speaking to reporters at the launch of the BBC's annual report on Tuesday, he said the recent funding agreement in the run-up to the Budget was "not a good process" but had since been settled.
Culture Secretary John Whittingdale, a long-standing critic of the licence fee, has appointed an eight-person panel to work on the renewal of the BBC's royal charter - which sets out the corporation's remit - due to expire at the end of 2016.
It has been reported that some in government favour scrapping the BBC's rolling news channel, scaling back its website and cutting expensive entertainment shows such as The Voice.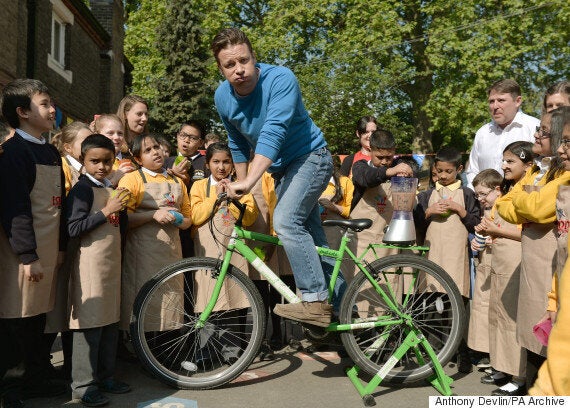 Signatory Jamie Oliver joins children as they celebrate Food Revolution Day
But Hall set out what he described as "non-negotiable" aspects of the BBC, including universal funding - "because we all pay, we all pay less" - and political independence.
He said: "I have real difficulty with the idea of artificial restrictions on creativity - after all, the last time politicians tried to be creative we ended up with the Millennium Dome.
"So it will be hard to support any proposal that stops us finding the next Strictly, the next Bake Off or - dare I say it - the next Top Gear."
Downing Street confirmed it has received the celebrities' letter.
Below, the letter in full
Dear Prime Minister,

We have seen that the Government has pledged to modernise the licence fee, return funding that had been diverted to pay for broadband roll-out, and increase the licence fee in line with inflation in return for the BBC taking on the costs of Licence Fees for the over 75's.

The Government and the BBC are now entering the Charter Review. We are writing to place on record at the very start of the process our concern that nothing should be done to diminish the BBC or turn it into a narrowly focused market-failure broadcaster.

In our view, a diminished BBC would simply mean a diminished Britain.

The BBC is a very precious institution. Like all organisations, it has its faults but it is overwhelmingly a creative force for good.

Britain's creative economy is growing and enjoying unprecedented success. The BBC is at the heart of this as the global showcase for our creative industries. The BBC is trusted and loved at home by British audiences and is the envy of the world abroad.

During the course of the Charter, we will continue to make the case for a strong BBC at the centre of British life and will be vocal in making the case for the BBC as it approaches its centenary.

Yours Sincerely

Clara Amfo

David Attenborough

Clare Balding

Melvyn Bragg

Brian Cox

Daniel Craig

Richard Curtis

Judi Dench

Chris Evans

Stephen Fry

Nick Grimshaw

Miranda Hart

Lenny Henry

Gary Lineker

Michael McIntyre

Steven Moffatt

Trevor Nelson

Annie Nightingale

Graham Norton

Jamie Oliver

Michael Palin

Adil Ray

JK Rowling

Mark Rylance

Simon Schama

David Walliams

Rachel Weisz

Claudia Winkleman

Reggie Yates