In the latest in our WISE WORDS interview series - where stars from a whole range of fields share the important life lessons they've learned along the way - we're posing some of the big questions to 'Hobbit' actor Lee Pace, now starring in 80s set drama 'Halt and Catch Fire'.
Lee Pace, who played Thranduil in 'The Hobbit' and Ronan the Accuser in 'Guardians of the Galaxy', stars in 'Halt and Catch Fire' as Joe MacMillan, a visionary salesman with an ambitious dream.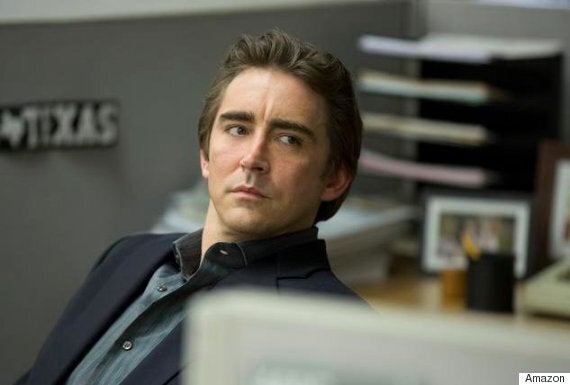 Lee Pace stars as Joe MacMillan in 'Halt and Catch Fire'
Set in the early 1980s, the heyday of the technological revolution, 'Halt and Catch Fire' dramatises the personal computing boom through the eyes of visionary Joe, an engineer (Scoot McNairy) and a prodigy (Mackenzie Davis) whose innovations directly confront the corporate giants of the time. Their personal and professional partnership is challenged by greed and ego while charting the changing culture of the 'Texas' Silicon Prairie'.
'Halt and Catch Fire' has been called the 80's version of the hit TV show, 'Mad Men', but critics agree that main character Joe Macmillian has a much harder edge to 'Man Men's Don Draper. Here, the actor playing him tells HuffPostUK about why he DOES read reviews and the thing he's learned from the biggest stars around him...
What do you do to switch off from the world?
I go to sleep. I go to my farm. I've got a garden that I keep, mostly hay but I have big plans for it. I always plan a big vegetable garden each year. Then I get called off to work, and return to a jungle. So then I make big plans...
How do you deal with negativity?
It's a little bit of common sense, but you just have to keep everything in proportion. Take the good with the bad. I read reviews. I find the reviews interesting, because the reviewer is someone who sees a lot of stuff. I don't always agree, but it's worth taking their point of view. You have to have a pretty tough skin to be in this business generally.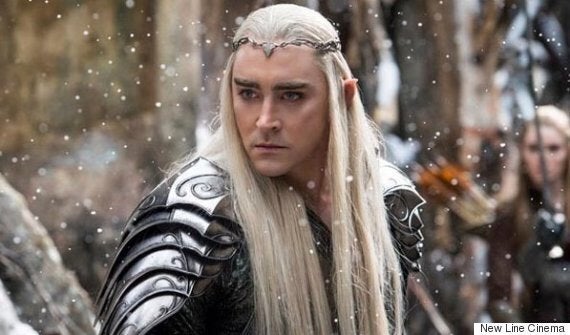 Lee Pace starred as Thranduil in The Hobbit series - "The most charismatic person I've ever met is Ian McKellen"
When and where are you happiest?
My farm. It's in New York, so we get the seasons. Every day is different, the weather is different, the temperature, the birds. I've had my farm five or six years, and it never bores me.
What's the best piece of advice you've ever been given?
Just relax. I was talking to a friend yesterday, and we were agreeing that you get so caught up in the cycle of work and expectation. Relax and be happy. If necessary, sit in a tree in a book.
What has been the hardest lesson you've learned?
Some people you work incredibly well with, and some people you don't, but it doesn't mean you have to stop, you have to work well with them as well. You have to take responsibility for working well with even people difficult. You will run into actors and filmmakers, reporters, other people that aren't always the best people you could meet, so you might as well make the best of it.
What would you tell your 13-year-old self?
Don't worry so much. It's going to be all right. Teenagers and young people just worry all the time. Worry and guilt. Is my brow knotted up? I wish I could have just chilled out.
What three things are at the top of your bucket list?
1. Bring my vegetable garden to a full season.
2. I would love to go fishing in Patagonia.
What do you think happens when we die?
I don't have enough information to make even a guess.
When do you feel a sense that we live in the presence of something bigger than ourselves?
Any time you're paying attention, you can realise nature is so much bigger than you. I'm at the beach right now, and you can't look at the ocean without realising there's something going on.
What do you try to bring to your relationships?
Good humour is important. Humour means a lot of different things. Humour means good will, strength, a lot of good things.
I always think it's work. I really don't think about the red carpets and other bits of glamour that come with the job. I've worked with incredible filmmakers and actors over the years and I've learned that, even for the biggest stars, it's such hard work, really. They're all just trying to make the best film or TV show they can make.
What was your last good deed?
My mother got me into Kiva, and it's such a great thing. We sat there on the couch and just gave small donations to farms, because I'm a farmer, $20 here, $25 there.
So I feel part of growth, and it's a loan to someone who has the capability to pay you back. They just want a couple more chickens, or fishing hooks, and they have every intention to pay back, they just want to step up, and every time I look in my inbox I see my loan has been repaid, I get to go back to the site and find someone else to invest with.
'Halt and Catch Fire' will return for a second season available exclusively in the UK on Amazon Prime Instant Video. Watch the trailer below...
Related