While there is a certainly an appetite for body confident, plus size models on Instagram (just check out Tess Holliday's 900K+ followers), any user searching for the hashtag "curvy" will be sadly disappointed.
A report on Buzzfeed revealed that #Curvy is one of a whole host of hashtags that have been disabled by the social media platform, including #Thinspo, which glorifies emaciated bodies and pro-anorexia accounts, and #nipple, which we all know sparked the #freethenipple campaign.
But if Instagram are attempting to protect users from potentially harmful content, many believe that deleting the hashtag #Curvy may be barking up the wrong tree.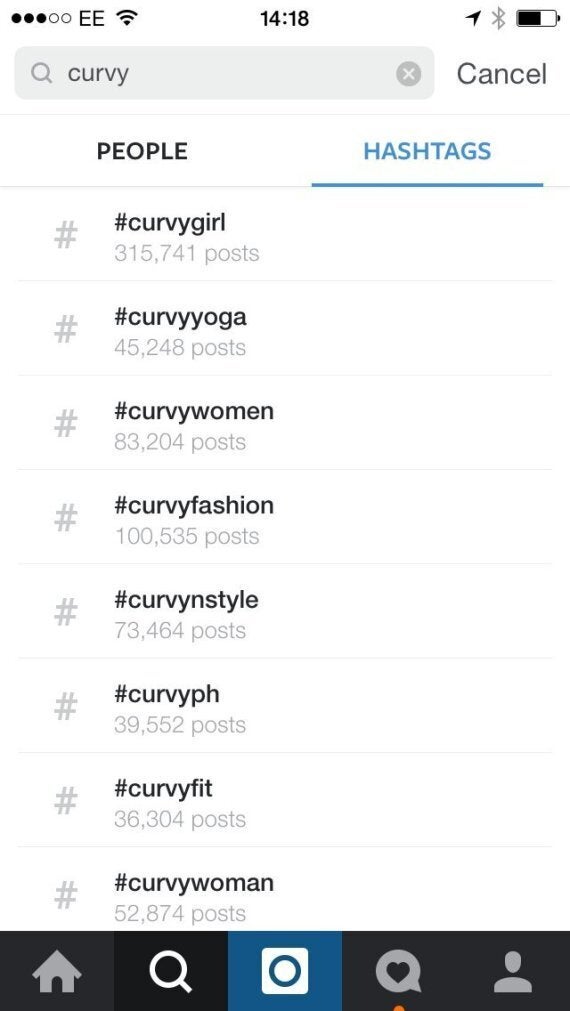 What happens when you try to search for #Curvy
According to a spokesperson from Instagram, the #curvy hashtag consistently contained content that violated the site's nudity policies. For that reason, it had to be made unsearchable.
Artist and activist Sam Roddick who had her Instagram account permanently deleted for posting "unacceptable content" (read: a cornice shaped like a vagina, not an actual vagina) believes that there are inconsistencies when it comes to the site's censorship.
Speaking on Tuesday night, at a panel discussion on social media and the arts alongside artist Rupi Kaur and Dan Hocking, managing partner at advertising agency Holler, Roddick queried why her images had been removed, while hashtags such as #vaginas, which hosts explicit pornographic images, remains permitted.
"Clearly it is unrealistic for Instagram to fully control or really be fully responsible for what people post - however I am disturbed by what Instagram are actually choosing to disallow and images they are censoring - they are showing that as a company their philosophy is emotionally and intellectually unhealthy and psychologically damaging towards women," she tells HuffPost UK Lifestyle.
"They have banned images of breast feeding, stretch marks, domestic images of menstruation and classical art works that respectfully portray nude women and now they ban the hashtag #curvy. While they allow bitch, fat slag, hookers, thin - this is not a safe platform for women and especially young girls (as we all know Instagram is populated with nude images of young women effectively selling themselves sexually)."
Poorna Bell, executive editor for HuffPost UK, calls the move "baffling".
"In recent months, Instagram has been home to an incredible body confidence movement that was created by and for plus size and #curvy women," she says.
"These women were able to reclaim their bodies and spread messages to women who are used to being bombarded with the usual Amazonian, Photoshopped bodies.
"#EffYourBeautyStandards, Mumbod - these all tried to subvert beauty standards in the most collaborative, global way. Why on earth Instagram would want to stifle that is utterly baffling."
Roddick adds: "My issue is not with what Instagram are allowing, my issues is what they are not allowing. It is so important that platforms like Instagram get behind positive self and sexual expression - body hair, gender representation, body shapes and all the realities of being human.
"Embracing who we are in our wide diversity is where media is heading so Instagram better change or people will feel misrepresented and it will become another Porn Hub."