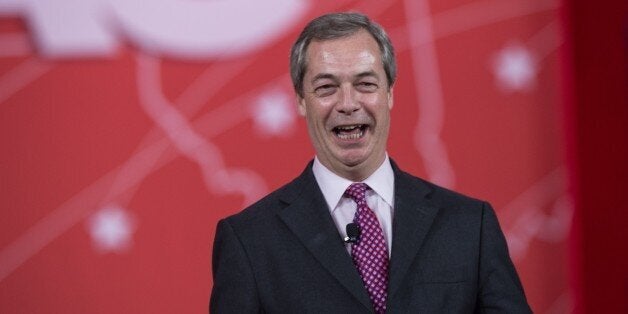 Nigel Farage came close to comparing the SNP to the Nazis today and said he saw himself as a modern day Henry VIII.
In a speech in Washington DC this afternoon, the Ukip leader put the general election result down to the success of the SNP.
"We've had this stunning election result, why? Chiefly fear of that appalling woman who comes from north of Hadrian's Wall, who represents the SNP, a party who are nationalists and socialists at the same time," he said.
"Did I really say that? Yes," he quickly added. "Well it's true, so to hell with it." Farage later repeated the "nationalist and socialist comparison" - telling the audience he "couldn't resist it".
Speaking at the Heritage Foundation think-tank, Farage said the upcoming British referendum on membership of the European Union was the "modern day Battle of Britain".
"This is the biggest political decision that we have faced for many decades, this is it, this is the big one," he said.
Asked whether he was similar to Donald Trump, the billionaire businessman and TV star who is running for president, Farage said while he liked to "avoid all comparisons with Donald Trump" he instead "think of myself as the updated Henry VIII".
Sticking to his historical theme, Farage also said the number of people who wanted to travel from North Africa to Europe was a crisis of "Old Testament biblical proportions".
"We have no means no ability of checking criminal records or of checking political or religious associations of any of these people. When IS [Islamic State] say they will use this crisis to flood Europe with their own Jihadists I suspect we should believe them," he said.
Farage used his speech to try and convince Americans that Britain would be a better ally if it left the EU. "We are your greatest ally on this planet. If we lose this referendum our ability to continue to be your best ally will diminish by the day," he said.
He said that the UK and US had defended democracy and freedom "in the face of some of the most evil aggressors in history".
But Farage added of Obama: "It would be nice if America had a president who actually liked my country, because the current one doesn't appear to."
The United States has repeatedly made clear it would like the UK to remain a member of the EU. At the recent G7 meeting in Germany, Obama said: "I would note that one of the great values of having the United Kingdom in the European Union is its leadership and strength on a whole host of global challenges.
"So we very much are looking forward to the United Kingdom staying part of the European Union because we think its influence is positive not just for Europe, but also for the world."
Related