Former SS officer Oskar Groening has been sentenced to four years in prison after being found guilty of accessory to murder 300,000 people.
The 94-year-old is widely known as a the 'bookkeeper of Auschwitz,' but prosecutors claimed they knew of three occasions when Groening assisting in herding people out of cattle carts and into camp, before being selected for the gas chamber.
While Groening admits 'moral guilt', he insists that he's never committed a crime, as he didn't personally kill any of the prisoners. He described himself as a "small cog in the wheel" of the Nazi regime.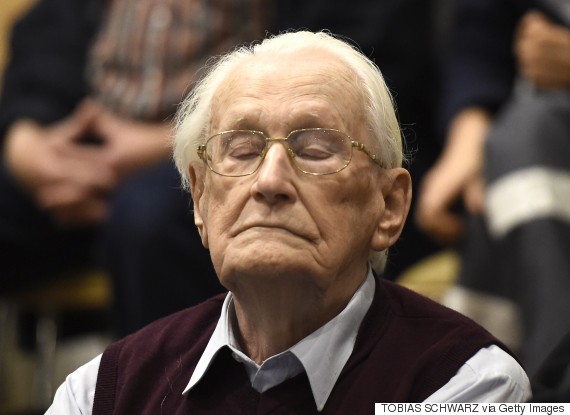 Oskar Groening's reaction to the guilty verdict
Commentators remain divided on the verdict, with Telegraph journalist, Emma Barnett, talking of Groening as "the bastard who robbed innocent, terrified people of all their cash and worldly goods".
However one of Groening's two defence attorneys, Hans Holtermann, said that the state had failed to prove that he 'aided and abetted a crime'.
He added: "Mr Groening was never an accessory to the Holocaust, neither with his presence at the ramp nor by transferring and counting money nor with any other actions, at least not in any legal sense."
The public debate surrounding Groening's case is relentless. The four-year sentence, seen as too short by some, but unnecessary by others.
@BBCWorld 4 years for murdering 300 thousand people? Wtaf. Just put a bullet in his head.

— Sid (@Trojan7Sec) July 15, 2015
@BBCBreaking Although this is justice, surely it's far too late. He's lived a long life since the atrocities and may die on prison.

— AtheistZero (@bselcoe) July 15, 2015
@itvnews bury him alive - 4 years is an insult

— ANDRINA HARDCASTLE (@grannydrina) July 15, 2015
Many argued that Groening's age and fragility meant that the sentence was too little too late.
@BBCWorld What's the use now since he is 94 years old. He has lived free enough already.

— Rishabh Kumar (@Rishabhkm1995) July 15, 2015
@itvnews christ... He's 94, what does this achieve? I'm pretty sure if he's neglected to assist that he'd lose his job or worse be with them

— Chris Dickinson (@ChriShink) July 15, 2015
@SkyNews Better late than never. It is good to know that that the courts are still honourable enough to cage these demons regardless of age.

— MarshaMillion (@MarshaMajor) July 15, 2015
@BBCBreaking@BBCNews to late for justice. I say forgive him & let him live his last days out.

— In2thewind (@fromthereandbac) July 15, 2015
@BBCBreaking The man is cleary too old, let him just be in regret

— Artur Aland (@AlandArtur) July 15, 2015
It makes me sick when war criminals/coup leaders get reduced sentences on the count of age. #OskarGroening is not less guilty cos he got old

— Günay Hilal Aygün (@MyRedSelf) July 15, 2015
Others say that Groening had no choice but to comply with the rules of the Nazi regime, while some argue that by ensuring the smooth-running of the camp made him complicit in the murders.
@Trojan7Sec@BBCWorld wtf are you on, he was a 21 old kid, he had no choice, you moron.

— sue writ (@suewrit111) July 15, 2015
@BBCWorld He had the choice fire squad for refusing orders, or following orders as soldiers do, and get jailed for following orders.

— gewk1.com (@BillKohlinger) July 15, 2015
@BBCBreaking He was acting on order. If it was reversed a British army person would've carried out the same duty.Giving him 4 years is wrong

— Peter (@Peter22509066) July 15, 2015
@SkyNews This is little short of unwarranted revenge on an old man who was not directly involved in any of the murders.

— Derek Hilton (@DerekHilton21) July 15, 2015
@BBCBreaking@BBCNews that's 7 mins each death

— Massimo Larocca (@larocca_massimo) July 15, 2015
The ruling marked the end of the four-month trial, in which the court sat for just three hours each day because of Groening's frailty.
Before proceedings, Groening had publicly discussed his role at the camp, describing atrocities he witnessed.
In 2005, he told the BBC: "I saw the gas chambers. I saw the crematoria. I was on the ramp when the selections [for the gas chambers] took place."
During the trial, Groening apologised to victims and said that he had "no right" to ask for forgiveness from them, adding that he could only ask God.
In reaction to the verdict, Dr Moshe Kantor, President of the European Jewish Congress, said: "We welcome today's verdict and the historic significance of the trial of Oskar Groening, and the opportunity it provides for to educate a generation that is all too distant from the horrors of the Holocaust.
"Although more than 70 years have passed since the liberation of the Nazi death camps, this trial reminds us that there is no statute of limitations for those responsible for Nazi horrors and of the real and present danger of intolerance and demonstrates the constant need to guard against anti-Semitism, racism and hate."