The Duchess of Cambridge must be utterly furious with her husband - the man has the cheek to land himself a female colleague.
Yes you heard that right, the Prince will be working with an actual woman in his new position with the East Anglian Air Ambulance.
Even worse, Dr Gemma Mullen is good looking.
That's what Sarah Vine seems to think anyway.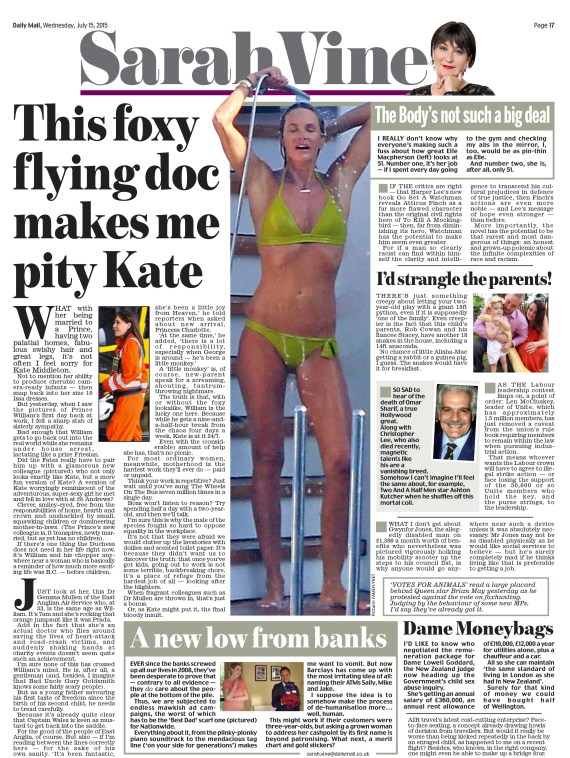 In her latest Daily Mail column, entitled 'This foxy flying doc makes me pity Kate', Vine implies that the Duchess should be unhappy about her husband working with "a more fun version of Kate".
Apparently Kate "remains under house arrest, lactating like a prize Friesian" following the birth of her daughter Charlotte.
And goodness, the Prince's new colleague even manages look like a normal human being in her uniform, "rocking that orange jumpsuit like it was Prada".
Because we all know how much the Duchess struggles to look glamorous.
Twitter users also seemed somewhat incensed by the piece…
@anitathetweeter Sarah Vile

— Scene & Heard (@SaHreports) July 14, 2015
@anitathetweeter either way, I suspect Kate couldn't give two fucks.

— Heidi Stephens (@heidistephens) July 14, 2015
Not many things shock me any more. But this ludicrously suggestive story by @SarahVine does: http://t.co/FW267TC6G1 pic.twitter.com/riKSqdp0F0

— Gavin Megaw (@gavinmegaw) July 15, 2015
Prince William's colleague Gemma Mullen makes me pity Kate Middleton says Sarah Vine | NO WORDS TO DESCRIBE THE ANGER http://t.co/qhdhBYO2vk

— Laura Freeman (@LauraFreeman9) July 15, 2015
Prince William's colleague Gemma Mullen makes me pity Kate. Read some rubbish in my time but this is unbelievable http://t.co/f40GT6bGsD

— phil dampier (@phildampier) July 15, 2015
In fairness, Vine's description of the frustrations of caring for a small child, including singing The Wheels On The Bus "seven million times in a single day" did seem to strike a chord with some…
Damn @SarahVine - started off rolling eyes at her on William's new colleague but ended up agreeing with her because: pic.twitter.com/pzNLFyhmo5

— Jane Merrick (@janemerrick23) July 15, 2015
While others expressed their own pity towards the writer, who is married to Michael Gove…
Poor Sarah Vine. Imagine how she feels every day having a husband go off to work with women who are elected and more attractive than her.

— Paul Frame (@PaulFrame85) July 15, 2015
"Foxy flying Doc makes me pity Kate" - Sarah Vine, you are married to Michael Gove and write for the Daily Mail. You deserve the pity.

— Dave Jones (@WelshGasDoc) July 14, 2015
The Mail also ran a profile piece on Dr Mullen today, discussing her relationship and similarities to Prince William.
SEE ALSO: