A motorcyclist in Yuma, Arizona has been caught on camera teaching everyone a lesson in how to calm down angry motorists.
The confrontation occurred when 51 year old Lee Schismenos, stormed out of his car in a nonsensical fit of rage and punched the motorcyclist in the face.
Instead of retaliating, the victim calmly talked the aggressive man down, diffusing the anger of the situation and showing a new class of road etiquette.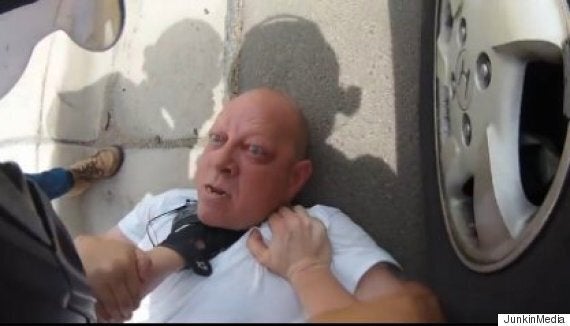 Suspect Lee Schismenos had a violent episode of road rage
In the video, the 24-year-old motorcyclist questions the alleged abuser and says: "Call the cops right now. Help! Anyone?
"I did nothing to you... How old are you? Shouldn't you know by now that is not what you do?"
A police report has since been filed and it states that one officer at the scene smelled alcohol on Schismenos' breath. When asked if he was impaired by the alcohol, the suspect said: "Not to drive, no."
According to police, the suspect rated himself as a four for being intoxicated on a scale from 1 to 10, with 10 being extremely intoxicated.
Schismenos may face several charges, including assault, disorderly conduct, threats, endangerment and impaired driving.
The man accused of the attack was injured in the altercation and briefly hospitalised and the police investigation is ongoing.
Popular in the Community