NEW YORK -- How best to greet America's first African-American president? For a group of protesters in Oklahoma, the answer was to form mob and wave a symbol of slavery outside his hotel room.
The Confederate flag may have been removed from the South Carolina statehouse and purged from retailers' stock rooms following the murder of nine people in Charleston last month, but the banner of armed insurrection against the United States remains a potent symbol for some.
Barack Obama stayed in an Oklahoma City hotel on Wednesday night ahead of a visit to a federal prison in El Reno, Oklahoma. So out came the "stars and bars," though protesters were quick to inform the watching media that the demonstration definitely wasn't "racist."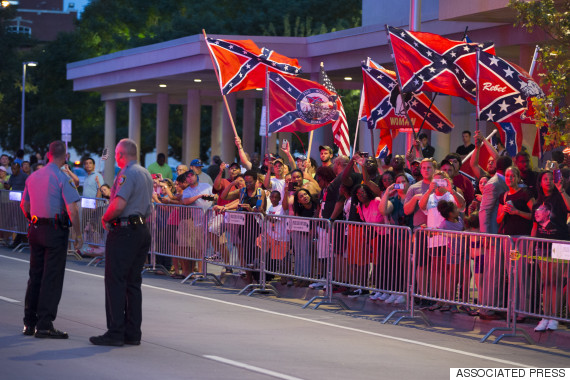 People wave Confederate flags outside the Obama's hotel, on Wednesday, July 15, 2015, in Oklahoma City
"It is about history," protester Trey Johnson told a local TV station. "We're not gonna stand down from our heritage," he added. Presumably that's the history in which the southern states went to war with the US government over their right to own other human beings, specifically black slaves.
"You know, this flag's not racist," he added. "And I know a lot of people think it is, but it's really not. It's just a southern thing, that's it."
Make of that what you will…
SEE ALSO: