Story contains graphic content
Gang members are staging their own jailhouse fight club and then uploading mobile video footage to YouTube in a Serco-run prison in New Zealand.
The brutal videos, which show inmates facing-off inside prison cells and the exercise yard as mobs of other inmates bay for blood, are believed to have been recorded in Auckland's Mt Eden Corrections Facility, a remand prison which Serco controversially took over management of in 2011. It also manages a second prison in South Auckland.
Inmates, wearing Serco-branded clothing and inked with gang tattoos, are seen beating each other to the ground with kicks, punches and knees to the head. At no time do prison authorities intervene.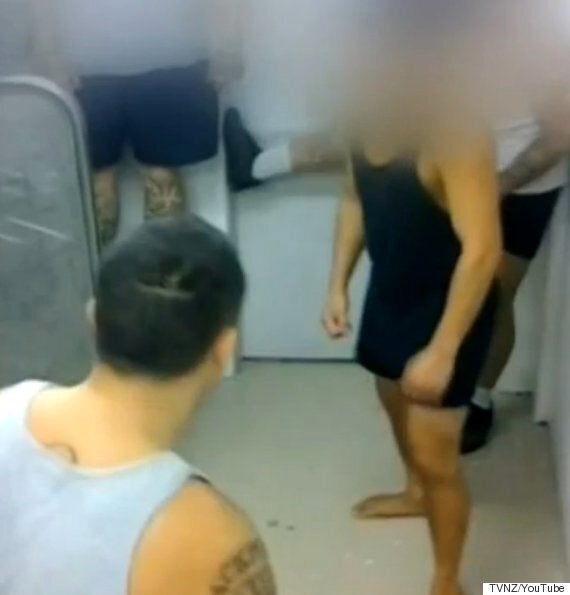 Serco are investigating after videos emerged of inmates at a prison they manage in Auckland, New Zealand, showed them staging their own fight club in cells and the exercise yard
According to TVNZ six fight videos have been posted to YouTube since June 6. The most recent video was uploaded just over a week ago.
Criminologist Professor Greg Newbold, of the University of Canterbury, told the broadcaster the video footage was "shocking, disgraceful, unforgiveable".
He added: "It's bloody bad news and it should never happen."
Newbold, a former inmate himself, said the "worst thing" about the fights was that they took place without being broken-up by prison officers, which shows "the staff aren't doing their jobs".
Serco director of operations Scott McNairn told TVNZ's One News that he had "commissioned a thorough investigation" into the incidents" and was working with the Department of Corrections on any "necessary actions" that may arise as a result of the inquiry.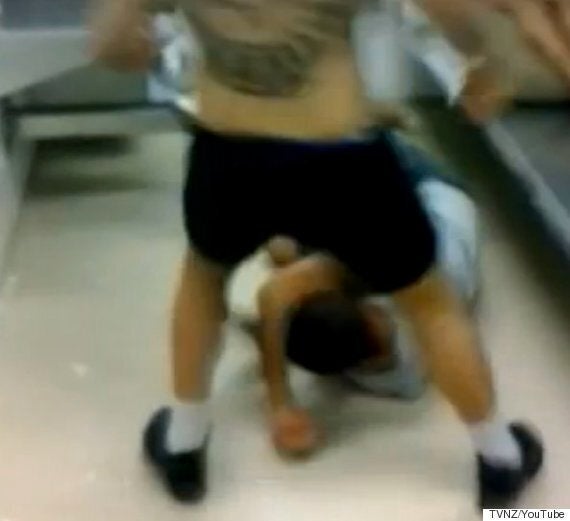 Despite a prison ban on cellphones, six videos were recorded and uploaded to YouTube since June
He also said Serco had contacted police, increased prison security, and limited inmates access to the exercise yards.
Mt Eden prison is the most violent prison in New Zealand. Despite housing less than 1000 inmates last November Radio New Zealand reported that in the year to June there were 139 fights between prisoners and 26 assaults on guards.
Christchurch Prison, by comparison, it reported, had 926 inmates but had just 83 assaults last year. The prison is run by New Zealand government's Department of Corrections, rather than Serco.
Corrections said as a result of the fight videos searches for contraband would be increased and prisoners would be monitored more closely when they are outside their cells, TVNZ reported.
In a further humiliation to The Department of Corrections career criminal Arthur Taylor, who is currently locked up in New Zealand's only maximum security prison, Paremoremo, posted a message on his Facebook page about officials' inability to combat increased violence behind bars.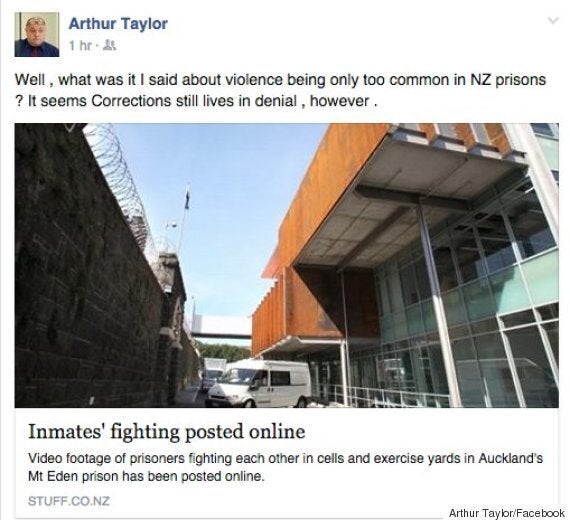 Paremoremo prison inmate Arthur Taylor posted a story about the fights on his Facebook page
One of the most infamous New Zealand prison fights caught on video involved double-murderer Graeme Burton who had a leg amputated after a shoot-out with police, stabbing gang member Dwayne Marsh 27 times with a make-shift weapon. One blow punctured Marsh's heart and he only survived the ordeal after undergoing emergency surgery.
Related