The five things you need to know on Thursday July 16, 2015...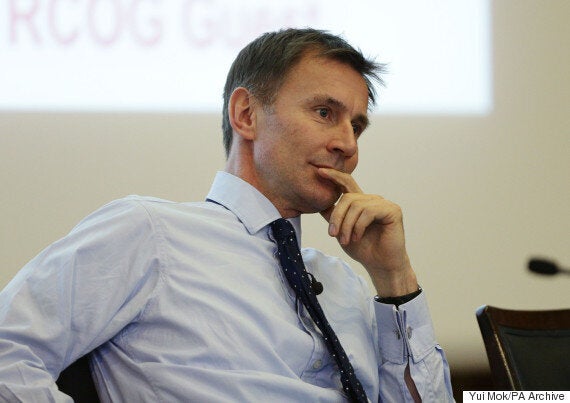 1) SOMETHING FOR THE WEEKEND
When John Humphrys said this morning that "Health Secretary, James Hunt" would be on air, there was a Rush of blood at the prospect of the late Formula 1 star making a comeback (he'd be good at hospital corners I guess). But for the BMA it's no laughing matter as Jeremy Hunt - who has been called worse on air - ploughs on with his seven-day working plan for consultants.
The seven-day working story makes most newspapers after the overnight briefing. The stat that the Health Secretary will quote in his speech today is that 6,000 people die every year because weekend care isn't upto scratch. Weekend death rates are higher, but the BMA say it's far from clear this is due to lack of consultants and point to a lack of 7-day community and diagnostic services. Mark Porter says the NHS lacks the cash for upto a '40% increase' in its workload and staffing.
Hunt told Sky News that an NHS that "cranks up" on a Monday and "winds down" on a Friday was "incredibly inefficient". He told Today that he'd been trying to negotiate since 2012 and the BMA had walked out of talks.
Not surprisingly, the Dept Of Health is also releasing today the Stuart Rose report into NHS management.
Helen Goodman certainly knows how to chuck a cat among the pigeons. Her amendment to the Welfare Bill - with upto 40 MPs ready to back it - is a direct challenge to Harriet Harman's authority. As Goodman a backer of Yvette Cooper's campaign, there's the inevitable suspicion that this is authorised. But as last week's spat over 'mummy wars' proved, Goodman is her own person, and Team Cooper point out they had nothing to do with the new amendment. Harman will have to come up with an answer pretty soon.
Meanwhile that private polling in the Statesman caused a right old kerfuffle last night, putting Jeremy Corbyn in the lead by upto 15 points. Kendall camp manager Toby Perkins said it proved there was a straight choice between a new start or a return to the 1980s Left. One Burnham supporter told me:"Yeah he's right. There is a race between Liz and Jeremy. It's for 4th bloody place." As I pointed out last night, Burnham is close to 50 CLP nominations.
Corbyn is announcing today an end to uni tuition fees, apologising for New Labour's big reform. The Telegraph has published today a separate step-by-step guide for its readers to sign up as £3 Labour supporters to 'help Jeremy Corbyn win - and destroy the Labour party'. Darren Hughes, deputy chief executive of the Electoral Reform Society, tells the Guardian the paper's move is 'cynical'.
Speaking of Labour splits, there's a scathing joint letter to the Guardian today from Khalid Mahmood and Shaid Malik, slating Sadiq Khan's 'self serving revisionism' in claiming he stood up to Tony Blair in a No.10 meeting the week after 7/7.
The Green Paper on the BBC's charter renewal is out today and there's lots of options the W1A hierarchy will hate. 'Inform, educate and entertain' are the Reithian principles that the Beeb loves to cite but ministers clearly believe that Reith's order of priorities was very deliberate and the last one is open to reform.
Getting rid of popular TV shows would however undermine the case for a universal tax on viewers, but perhaps that's part of the whole cunning plan. The Telegraph says one option is something John Whittingdale has flirted with before, a means-tested levy on households that would leave the middle classes paying more than the poorest.
As for hard cash, have ministers pulled a fast one with Tony Hall? He was convinced that he'd got a deal to increase the licence fee by CPI for five years, in return for the £700m cost of taking on free licences for over-75s. That deal seems open to unpicking. No wonder Chris Patten has come up with a neat soundbite, calling Whitto's advisory panel 'assistant gravediggers'.
The Perry report into the decriminalising non-payment the licence fee is also out. He's expected to say the law should remain, something that a fair few Tory backbenchers won't be happy about.
BECAUSE YOU'VE READ THIS FAR...
The Sun's Steve Hawkes has a scoop that IPSA will bring forward its report on MPs pay to today (rather than September) - and go ahead with the bumper 10% rise in salary. There's no Written Ministerial Statement on this on the Order Paper yet, but the Sun quotes a source saying IPSA "are very, very keen to get on with it" "They feel the matter is closed and want to get it done before recess." IPSA say they make announcements 'when Parliament is in session', so that could mean any time between now and next Tuesday.
If the rise does go ahead, it will be a presentational problem for David Cameron. But there's not much he or any other MP can do about it, short of tearing up IPSA's statutory remit.
And don't listen to any MP who says they will 'refuse' the pay rise: it automatically goes into their bank account. They can then of course donate it to charity or whoever, but they will definitely get the cash. Cue a ring-round of 650 MPs to ask them what they're doing with it.
5) TEENAGE PICKS ALL THROUGH THE NIGHT
The votes at 16 campaign got a shot in the arm last night as Labour and Lib Dem peers passed with a comfortable majority a plan to extend the franchise to under 18s for council elections. I previewed this last month, pointing out that the big picture is the campaign to give 16 and 17 year olds the vote in the EU referendum bill later this year.
The Commons will almost certainly reject the Lords-led amendment but we will get ping-pong that could prove rather pongy for the Government given that in-built anti-Tory majority in the Lords. Note too that last night's was a 'woven amendment' (the two parties in alliance not separately on the amendment) proof of joint Lib-Lab working, despite occasional fractiousness between them. Government Minister Lady Williams of Trafford said last night: "We are an unelected chamber – it is not the place for us to propose a change in the franchise."
Ministers will have to decide if they want to use the blunderbuss of the Parliament Act on either the councils or EU bill. But the Lords are digging in. There's gossip, just gossip, that ministers could agree to extending the franchise on the EU referendum given the Scots precedent and the only thing preventing it is a Euroscep backlash at the idea pro-Euro teens could boost the Yes vote. Let's see.
There's the usual end-of-term avalanche of Written Ministerial Statements today (34 in total). Undercover policing, police pay, the Intercepts Commissioner report, the FCO wine cellar all feature.
Not much has changed since Bernard Ingham told Mrs T to bury bad news by making negative announcements on successive days (as today's Times reveals from the National Archive).
The Lib Dems announce their new leader today: will the bookies get it right on Farron?
The FT has a quote from an OBR economist saying the hike in the minimum wage is a 'completely hopeless' way of tackling poverty. A new IFS study claims the majority of children in poverty are in working households.
The Indy has an exclusive that DECC has overspent its budget on renewables by £1.5bn, the Times says Andrew Adonis is joining the board of HS2.
Thousands of teenagers are to have mindfulness classes to help their mental fitness thanks to a Wellcome Trust scheme.
Transport Questions are at 9.30am in the Commons, with Chris Grayling's final Business Statement of the summer to follow. A debate on Parliament's renovation features too.
Cherie Blair is on Radio 4 tonight setting out her defence of former Rwandan intel chief Karenzi Karake.
If you're reading this on the web, sign-up HERE to get the WaughZone delivered to your inbox.
Got something you want to share? Please send any stories/tips/quotes/pix/plugs/gossip to Paul Waugh (paul.waugh@huffingtonpost.com), Ned Simons (ned.simons@huffingtonpost.com), Graeme Demianyk (graeme.demianyk@huffingtonpost.com) and Owen Bennett (owen.bennett@huffingtonpost.com)