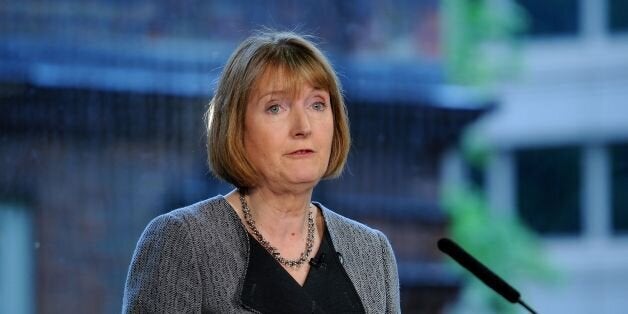 Harriet Harman has caved in to huge pressure from Labour MPs and leadership contenders to table an amendment opposing the Tories' welfare cuts.
The acting Labour leader, who last week suggested her party would not reject all of the Conservative plans, decided to act once key members of the Shadow Cabinet made clear their views today.
Crucially, however, Ms Harman will whip her party to abstain on the Second Reading of the bill. She is understood to be resigned to some MPs deciding to vote against it.
A senior party source told The HuffPost UK that the Harman amendment would "reduce a big rebellion to a small rebellion" by Labour MPs.
Labour's amendment to the Bill states: "Whilst affirming its belief that there should be controls on and reforms to the overall costs of social security; that reporting obligations on full employment, apprenticeships and troubled families are welcome; and that a benefits cap and loans for mortgage interest support are necessary changes to the welfare system, this House declines to give a Second Reading to the Welfare Reform and Work Bill because the Bill will prevent the Government from continuing to pursue an ambition to reduce child poverty in both absolute and relative terms; effectively repeals the Child Poverty Act 2010 which provides important measures and accountability of government policy in relation to child poverty; and includes a proposal for the Employment and Support Allowance (work-related activity component) which is an unfair approach to those who are sick and disabled."
The move follows a 'wrecking amendment' tabled by shadow minister Helen Goodman that aimed to force Ms Harman's hand ahead of the crucial Second Reading of the Welfare Reform and Work Bill next week.
The Goodman amendment, seen by The Huffington Post UK, sets out exactly why the party should be opposing the legislation, including the impact on children in poverty as well as the sick and disabled.
It states: "This House declines to give a Second Reading to the Welfare Reform and Work Bill, notwithstanding its potentially useful provisions on apprenticeships, because the Bill would have the effect of ignoring the plight of children in low income working households, removing the concept of child poverty from the statute book, increasing the number of children, especially those from large families, living in poverty, worsening work incentives for people whose incomes are below average and reducing the incomes of sick and disabled people."
But the amendment was a direct challenge to Ms Harman, who in the past week expressed reservations that Labour would be seen as out of touch with the voters if it waged 'blanket' opposition to welfare reform.
A source close to the leader told HuffPost that a decision had now been taken to table a 'reasoned amendment' to the bill. Its exact wording remains unclear, however.
Ms Harman faced criticism at the Parliamentary Labour Party meeting this week for suggesting that she would not oppose the Tory bill.
Ms Goodman is a backer of Yvette Cooper for the Labour leadership but insists that she has not discussed her plan with the Shadow Home Secertary.
The Bishop Auckland MP believes that upto 40 Labour MPs could vote for her amendment - even if the party decides not to accept it officially.
The Shadow Cabinet this week was consulted by Ms Harman for their views but it was upto her to make the final decision on tactics for next week's vote.
Ms Cooper, who has blogged on the topic for HuffPost, has already called for a 'reasoned amendment' to curb key benefit cuts and wants to oppose the bill at Second Reading.
Andy Burnham revealed this week that he too wanted to oppose the legislation. But both have pledged to abide by collective responsibility.
In last week's summer Budget, George Osborne announced that working-age benefits, specifically Tax Credits and Local Housing Allowance, would be frozen for the next four years.
Child Tax Credits and Universal Credit will also to be limited to the first two children of new claimants, a plan that Ms Harman had suggested Labour ought not to oppose.
Ms Goodman told The HuffPost UK: "The IFS report this morning, which shows that two-thirds of children living in poverty are in households with a parent in work, demonstrates the unfairness of this government cutting tax credits which go to these families, who are struggling to give their child a good upbringing.
"It is absolutely vital that these matters are debated on the floor of the House of Commons. This amendment gives us the opportunity to do so."
The IFS analysis found that the number of children living below the poverty line rose by 2% from 2010 to 2014.
Shadow welfare minister Stephen Timms said: "This IFS report shows David Cameron and George Osborne have overseen a huge increase in the number of children in poverty who live in working families and they're set to make matters worse with huge tax credit cuts for working people.."
But the Department for Work and Pensions said: "This report recognises that rising employment has led to increases in the proportion of children living with working parents. And we know that the proportion of people living on low incomes is at the lowest level since the mid-1980s.
"Work remains the best route out of poverty and we want to ensure that when people go out to work they are paid a decent wage and get to keep more of what they earn."
Popular in the Community