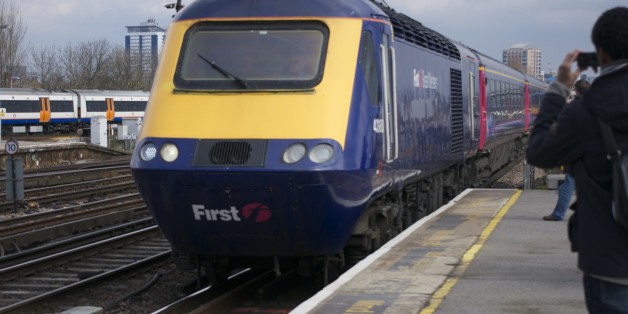 TheJRB/Flickr
One First Great Western customer has caused a Twitter storm after claiming that standard class passengers were asked to give up their seats to first class ticket holders.
Will Guyatt tweeted that there was a fault in the first class carriage, resulting in the passengers being re-seated elsewhere on the train.
Despite the request for passengers to vacate their seats, Guyatt said that he and others in the carriage laughed and remained seated.
Incredible. Carriage failure on a First Great Western train. Standard class seat holders asked to move for those with First Class tickets

— Will Guyatt (@willguyatt) July 16, 2015
@mrjamesob it's a first world problem admittedly but I spend £9k on my ticket from Wilts and would have been dragged out by the police first

— Will Guyatt (@willguyatt) July 16, 2015
@clivebull my standard class ticket costs £9200 a year so I'm not going anywhere.

— Will Guyatt (@willguyatt) July 16, 2015
Guyatt told Huffington Post UK: "I work in social media but I didn't expect this. I'm always tweeting and moaning about the public transport system. I know a lot of journalists, and they started to retweet me, so I suppose that's how it all happened.
"First Great Western are trying to make it look as if they've contacted me. They only tried to contact me about half an hour ago, after speaking to other journalists essentially calling me a liar. I've still not spoken to them.
"The announcement has been confirmed by others on Twitter. I'm rather sad that they did not call me before talking to the press."
The incident, which took place on the 7pm service from Paddington to Bristol on Thursday evening, has been contested by First Great Western, who say that Guyatt's story is 'essentially an untruth'.
A spokesperson told Huffington Post UK: "The only incident that has been reported involved a customer sitting in first class with a standard class ticket. He was asked to vacate his seat for a first class ticket holder."
They added: "We are trying to get in touch with the customer to investigate further."
However, Guyatt has hit back at claims they are reaching out to him, tweeting:
Apparently First Great Western now contest the announcement. I'm sure they do.

— Will Guyatt (@willguyatt) July 17, 2015
I'd have loved FGW to have actually contacted me before they started "contesting events." PR spin not customer care. Back to work now.

— Will Guyatt (@willguyatt) July 17, 2015
Guyatt added that when he realised that the tweet might have been picked up, he asked those around him whether he'd heard the announcement correctly. Others have since tweeted to confirm his account of the incident.
@JamesGray80@willguyatt I was on that train! Victorian courtesies observed.

— Ralph Jackson (@RalphJ13) July 16, 2015
Yep - I'm on this train. Luckily carriage E was too far for them them travel. https://t.co/bng8KlrI6t

— Emma Watkins (@AmdrammerEmma) July 16, 2015
"I travel with them a lot, I just feel that sometimes they need to be a bit more mindful about consumers. Being told you can be shoved out the way. I felt like I was in the Victorian times," Guyatt said.
He added that he has no intention of making a formal complaint.