The Ministry of Defence confirmed the strikes, which took place despite the fact that Britain voted against military action in Syria in 2013, and despite David Cameron's assurance that any plans for military intervention would be put to a vote.
It claims that the because the UK pilots were embedded with the forces of other countries such as the USA, they were effectively acting as troops from those countries rather than Britain.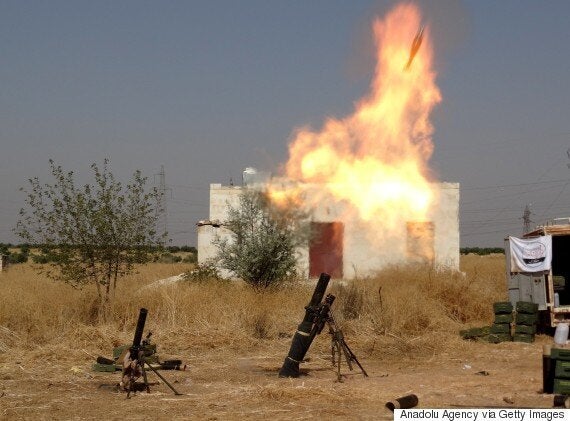 Syrian opponents attack Syrian Regime forces in al-Khalidiya, Aleppo
"Let's be absolutely clear about this, we voted in 2013, when Parliament had been recalled from recess, that there should be no British military intervention in Syria."
"We were told that Number 10 had got the message and that any future intervention would be subject to a vote. Here we are learning that we have British military personnel engaged in airstrikes.
"So, I hope the Government takes the earliest opportunity to come to Parliament and explain its position, because I think a number of colleagues will ask questions."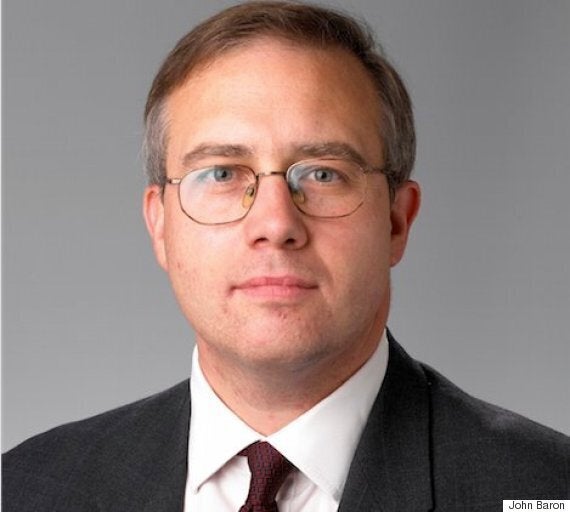 John Baron said the government should explain its position
The UK personnel were embedded with the forces of allied nations, including the USA and Canada, which have been conducting strikes against the so-called Islamic State - also known as Isil or Isis.
The House of Commons voted against military action in Syria in 2013 and parliamentary authorisation has so far been given only to UK air strikes against IS in neighbouring Iraq.
But the MoD said any personnel embedded in foreign nations' forces were effectively operating as troops of that country.
But Baron said this was irrelevant: "The bottom line is you still have British military personnel participating in military intervention. I mean, how far do you take this argument?
"If we had a platoon of infantry carried in to Syria in an American or Canadian armoured personnel carrier, and engaged with the enemy from a distance with a heavy machine gun on top, would the Government still say 'that is not British military intervention'? I think most people would accept it was."
The number of pilots involved was in single figures.
British troops are regularly embedded in other nations' forces and have operated under US command since the 1950s, including in recent operations in Afghanistan, Iraq and Libya. The MoD agrees each deployment and continually monitors the permissions granted to embedded troops.
UK forces are taking part in surveillance and air-to-air refuelling operations over Syria, and in the wake of the murder of 30 Britons in a terror attack in Tunisia last month, David Cameron and Defence Secretary Michael Fallon made clear they are considering extending air strikes against IS into the country.
They have indicated that they would seek MPs' approval for an extension of air strikes into Syria, but no vote is expected before the autumn.
Details of British personnel's involvement in strikes by allied nations' forces were revealed by a Freedom of Information request from pressure group Reprieve.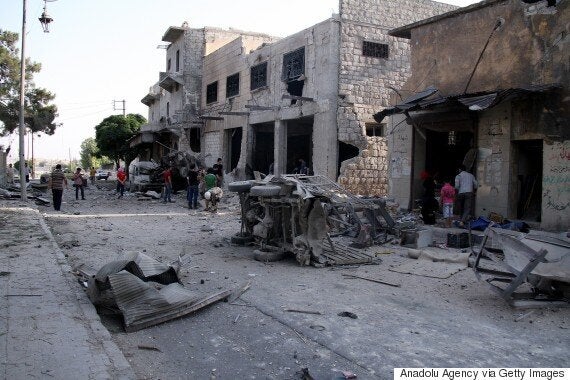 Buildings and vehicles destroyed after Syrian Regime Forces attacked Aleppo
A Ministry of Defence spokesman said: "When embedded, UK personnel are effectively operating as foreign troops.
"The UK is contributing to the anti-Isil coalition air campaign against Isil targets in Syria through the provision of intelligence, surveillance and reconnaissance.
"Isil poses a direct threat to the UK and to countries around the world. The UK is not conducting air strikes in Syria.
"But we have a long-standing embed programme with allies, where small numbers of UK personnel act under the command of host nations.
"That has been the case in Syria, although there are currently no pilots operating in this region.
"When embedded, UK personnel are effectively operating as foreign troops."
Mr Fallon said on Thursday that the UK was engaged in a "new Battle of Britain" against IS, as he confirmed the deployment of a second RAF Rivet Joint spy plane to the region.
Earlier this month, he said there was an "illogicality" about targeting IS in Iraq but not Syria, when the terror group did not respect international borders.
He suggested that the new Parliament may take a different view from its predecessor on strikes in Syria. Downing Street has said that more "thought and deliberation" are needed before putting the issue to a vote in the Commons.
Related