The five things you need to know on Friday July 17, 2015...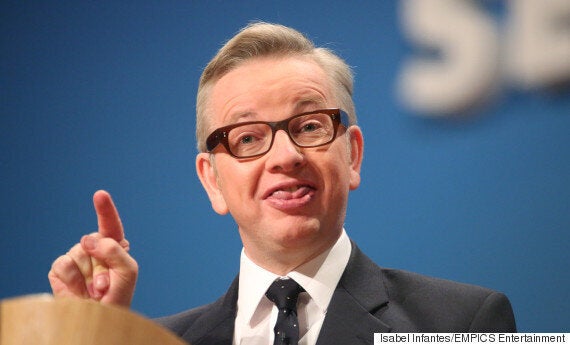 Caught between a rising prison population and cuts to his non-protected department, Michael Gove isn't in an easy place at the Ministry of Justice. But he's this morning sketching out his plans for England's jails and Gove the reformer is back. Indeed for all the 'One Nation' big picture, it's worth pointing out that the PM is not afraid of using this Parliament to usher in radical change, as both Jeremy Hunt and John Whittingdale yesterday proved.
Gove has already cleared the decks of some of the Grayling legacy: letting prisoners have books, adopting a conciliatory tone to lawyers, scrapping the Mega-Borstal plan. But in each case it doesn't mean he's backing off change.
And today's speech marries his background as Education Secretary with his new job. The best topline is him saying he's 'attracted to' the idea of 'earned release' for prisoners who show a commitment to educating themselves inside. Some privileges could also be awarded to those who want to learn, not loaf. "The failure to teach our prisoners a proper lesson is indefensible," he will say. It's not quite Free Prisons, but watch for more freedom for Governors to innovate on education.
And in a true Govian touch, he stresses that this is a matter of progressive social justice: those hit hardest by reoffending are not the middle classes with 'high hedges and sophisticated alarms', but the poorest in society plagued by drug and gang culture.
The hot news overnight, after a rash of meetings, is that Jeremy Corbyn has moved into the lead in Constitutency Labour Party nominations. He has 55 to Andy Burnham's 51. Yvette Cooper has 42 (though her camp points out she comes close in 2nd prefs to both Burnham and Corbyn in CLPs). Liz Kendall has just 10. Real or imagined, the narrative of 'Stormin' Corbyn' just ain't going away.
Some MPs think the 'private polling' story in the Statesman was just spin by the Kendall camp, a last throw of the dice to pitch the race as a fight between the 1980s and a fresh Blairite face. Chuka Umunna certainly went for it on Newsnight, comparing his party to a 'petulant child'. The Kendall camp kinda think the party is indulging in self-harm and not just sleepwalking to disaster. But Kendall has some powerful new backers, with three former women chief whips - Ann Taylor, Hilary Armstrong and Jacqui Smith- all coming out to support her in a HuffPost blog today.
Harriet Harman knows more than most how the party has been dragged leftwards by the new intake and by 5 years of Milifandom. Yesterday - after intense face-to-face meetings with some in the Shadow Cabinet - she caved to pressure to table a reasoned amendment opposing the Second Reading of the welfare bill. But I note that the acting leader is standing firm on her principle that if the amendment falls, she will order her troops to abstain on Second Reading. I understand yesterday's amendment was aimed at reducing a sizeable rebellion next week to a small one.
Already Helen Goodman is a bit perplexed by the tactics: "I cannot see why if you table a reasoned amendment rejecting a bill you would then go onto abstain in a further vote on the bill. It would be best to oppose all the way through because of the damage the bill does to people in poverty."
The Guardian has a line about just how leftward things could go. It quotes Max Shanly, a Corbyn supporter on the national committee of Young Labour and active in Unite, saying the PLP will split "with the Blairites buggering off to form a new SDP...The Labour left will have to act swiftly and I am afraid brutally in many cases. The PLP will have to be brought into line, some members of party staff will need to be pointed towards the exit".
The FT has a further drip feed of its Len McCluskey interview in which he says Unite could consider campaigning for a No vote in the EU referendum. The idea is growing on the left that if Cameron abandons workers' rights, there's no point staying in. Alan Johnson told me this month "that's like saying you've lost something in negotiations, you're going to de-recognise the union".
Ministers have been swapping anecdotes about David Cameron bumping into Corbyn outside the 1922 Committee this week. Cameron joked that he had lots of tips on how to come through a summer of leadership campaigning, though Corbyn may not have picked up the PM's gag that he was now helping the Tory cause.
If Corbyn is elected leader, I wonder if he'd be tempted to veer off down the No camp. But that would surely lead to an SDP-style schism. Tim Farron's election herald closer ties with Labour. Note that last night Lord Steel told the PM programme "Under first-past-the-post as an election system, you really have to be a bit more sensible about where you deploy your candidates..." Watch that space.
The BBC and SkyNews are reporting the hot news that three British pilots embedded with US and Canadian air forces have been involved in airstrikes over Syria for the first time. The revelation came as a result of a Freedom of Information request by human rights group Reprieve.
One one level this is just a technicality, given the pilots are not under British command and it appears there's no deliberate attempt to undermine Parliamentary authority. But just what MPs will think of the fact that they weren't told by ministers is another matter. Is an FoI request the new vehicle for crucial military information rather than, say, the House of Commons?
The RAF does have flights over Syria but only using Reaper drones and other intelligence gathering aircraft (it's a 'new Battle of Britain', Michael Fallon said yesterday). But as Parliament voted against Syrian action in 2013, expect a few politicians to react today.
Tory MP John Baron has been on Today: "What this does show at the very minimum is an insensitivity to Parliament's will".
BECAUSE YOU'VE READ THIS FAR...
What's most interesting about the MPs' inflation-busting, mega-bumper 10% pay rise is how little attention it gets on newspaper front pages. Only the Mirrror has a small item on the PM on Page 1 (PM: I Deserve My 10% Pay Increase). Some ministers are delighted that the media's gadfly attention span has drifted and hacks have just got bored of the story through repetition. The whopping rise has been known about since 2013, we had a flurry of stories just after the election when No10 signalled the PM wouldn't oppose the rise, but on the day of its confirmation there's been no mass media onslaught.
This will delight all those Tory backbenchers who privately warned Downing Street not to engage in gesture politics, given that wealthy ministers are in no position to lecture non-ministers about salaries. Tying future rises to public sector pay helps sell the changes. But the long term impact will be on trade unions who may man picket lines with that '10% for them, 1% for us' slogan.
Still the question of how to spend the rise is a tricky one and many have already said they'd donate it to charity. No.10 was extremely wary yesterday of engaging in this game, saying how David Cameron decided to use the extra cash was 'a private matter'. Yvette Cooper's team disagree and the leadership candidates are in an arms race of giving. Cooper will give her £7k towards an apprenticeship (though it would clearly need a top up to get to the minimum wage), while Andy Burnham has his own gesture to a local charity helping the vulnerable.
What most seemed to miss yesterday was that the PM gave a clip in Cornwall in which he strongly hinted he would indeed be donating it to charidee. Asked directly if he'd donate the rise, he replied: "I may give....I give money to charity. This will obviously enable people to give more money to charity. But I think that's a private matter"
Mark Carney's 'turn of the year' interest rate warning makes most of the front pages, and with good reason. Although we've all become used to virtually zero interest rates, even a small uptick would affect millions. I'd be interested to know just how many people have used the historic low rates to opt for interest-only mortgages (which many took out as the only way to get on the housing ladder).
For now Carney's steady trajectory projection is as smooth as his suits. But the Treasury knows there could be trouble ahead politically
The PM's in Cornwall still and has a five-point plan to boost tourism.
The FT has a nice story on the radical pension plans in the Budget that many in the industry believe will be a slow-burn issue. Ros Altmann suggests the Chancellor's move to treat pensions like ISAs is 'dangerous'.
The Indy has a valuable and timely series on how the school holidays mean rape and violence for some pupils: it highlights the South Asian children now heading to the subcontinent to embark on forced marriage.
If you're reading this on the web, sign-up HERE to get the WaughZone delivered to your inbox.
Got something you want to share? Please send any stories/tips/quotes/pix/plugs/gossip to Paul Waugh (paul.waugh@huffingtonpost.com), Ned Simons (ned.simons@huffingtonpost.com), Graeme Demianyk (graeme.demianyk@huffingtonpost.com) and Owen Bennett (owen.bennett@huffingtonpost.com)