The racing world is in mourning after Formula One driver Jules Bianchi died from head injuries sustained in a crash at last year's Japanese Grand Prix.
The Frenchman's family posted the sad news on Bianchi's official Twitter feed and it was later confirmed by the Manor F1 team.
Bianchi, 25, had been in a coma since the October 5 accident in which he collided at high speed with a mobile crane which was being used to pick up another crashed car.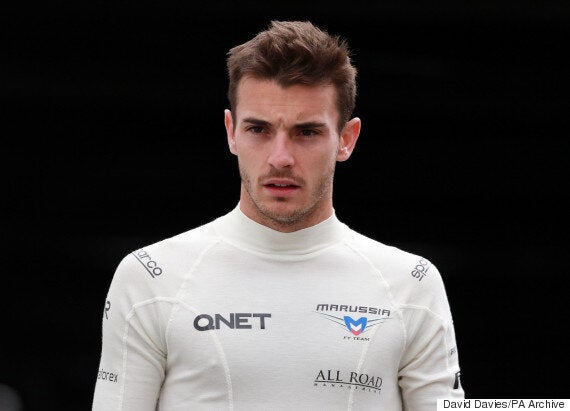 Jules Bianchi has died after spending nine months in a coma
A statement issued by his parents Philippe and Christine, his brother Tom and sister Melanie said: "Jules fought right to the very end, as he always did, but today his battle came to an end. The pain we feel is immense and indescribable."
The Manor team tweeted: "We are devastated to lose Jules after such a hard-fought battle. It was a privilege to have him race for our team."
Retired world champion racing driver Mario Andretti tweeted: "My heartfelt condolences to the Jules_Bianchi family for this very sad ending of a promising young life. My prayers are with you. RIPJules."
Tributes flooded in for Bianchi who competed in 34 races over the 2013 and 2014 seasons, scoring the first championship points for Manor - then known as Marussia - by finishing fifth at last year's Monaco Grand Prix.
British driver Max Chilton tweeted: "No words can describe what his family & the sport have lost. All I can say it was a pleasure knowing & racing you."
Katherine Legge, a British auto racing driver, tweeted: "So sad to hear Jules Bianchi passed away. RIP Jules."
Dario Franchitti, the four-time Indy Car Series champion and three-time Indy 500 winner, tweeted: "Rest in peace Jules Bianchi. This sport that we love can be very cruel."
Nelson Piquet Jr wrote: "RIP Jules Bianchi" while racing driver Kamui Kobayashi added: "We never forget you!".
Juan Pablo Montoya said: "Just heard that Jules Bianchi passed away. Thoughts and prayers for his family and friends. RIP."
Racer Andre Lotterer tweeted: "Rest in peace dear Jules! We lost a great fighter today. All my thoughts are with you and your family Jules_Bianchi".
Bianchi died at the Centre Hospitalier Universitaire in his home town of Nice, where he had been since his emergency treatment in Japan in the days after the accident.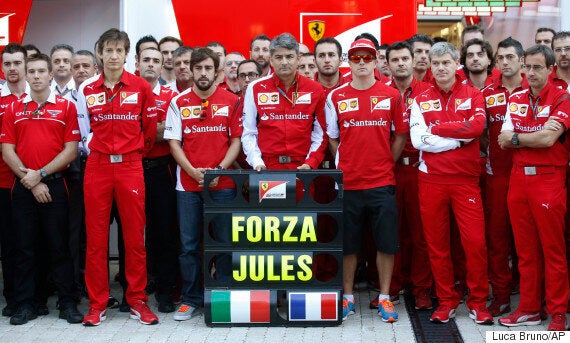 Bianchi's teammates gathered in support of him while he was in hospital
The family statement said: "We wish to thank the medical staff at Nice's CHU who looked after him with love and dedication.
"We also thank the staff of the General Medical Centre in the Mie Prefecture (Japan) who looked after Jules immediately after the accident, as well as all the other doctors who have been involved with his care over the past months.
"Furthermore, we thank Jules' colleagues, friends, fans and everyone who has demonstrated their affection for him over these past months, which gave us great strength and helped us deal with such difficult times."
Bianchi's accident prompted F1 to alter its safety regulations and stop a race faster under caution-flag conditions.
Related