Buckingham Palace has defended footage from 1933 that appears to show a young Queen performing a Nazi salute with her family at Balmoral.
The film, obtained by The Sun (£), shows the Queen, aged six or seven, join the Queen Mother and her uncle Prince Edward, the Prince of Wales, in raising an arm in salute as she played alongside her younger sister, Princess Margaret.
A Palace spokesman said: "It is disappointing that film, shot eight decades ago and apparently from Her Majesty's personal family archive, has been obtained and exploited in this manner."
WORLD EXCLUSIVE: Secret 1933 film shows Edward VIII teaching Nazi salute to Queen. See it FREE http://t.co/RlU7FQ05sX pic.twitter.com/H0bahQ3xCk

— The Sun (@TheSun) July 18, 2015
The grainy black and white footage, which lasts around 17 seconds, shows the Queen playing with a dog on the lawn at Balmoral, The Sun claims (£), before she raises an arm to wave to the camera with Margaret.
The Queen Mother then makes a Nazi salute, and after glancing towards her mother the Queen mimics the gesture.
The Queen Mother repeats the salute, joined by Edward, and Margaret raises her left hand before the two children continue dancing and playing on the grass.
A Palace source said: "Most people will see these pictures in their proper context and time. This is a family playing and momentarily referencing a gesture many would have seen from contemporary news reels.
"No one at that time had any sense how it would evolve. To imply anything else is misleading and dishonest.
SEE ALSO:
"The Queen is around six years of age at the time and entirely innocent of attaching any meaning to these gestures.
"The Queen and her family's service and dedication to the welfare of this nation during the war, and the 63 years The Queen has spent building relations between nations and peoples speaks for itself."
Edward, who later became King Edward VIII and abdicated to marry the American socialite Wallis Simpson, faced numerous accusations of being a Nazi sympathiser.
The couple were photographed meeting Hitler in Munich in October 1937, less than two years before the Second World War broke out.
The footage is thought to have been shot in 1933 or 1934, when Hitler was rising to prominence in Germany.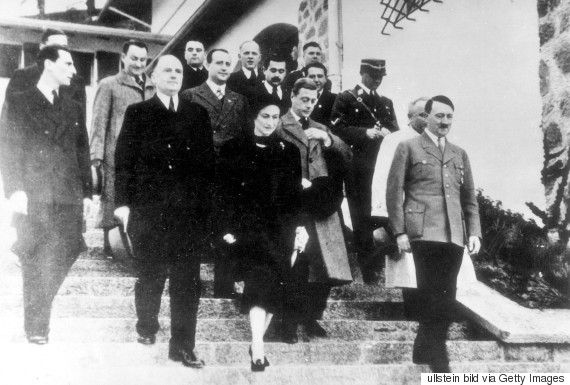 Edward VIII met with Hitler in 1937
The Sun defended publishing the footage, saying it was of great public importance and historical significance because of the involvement of Edward.
In an editorial column, the newspaper said: "Here he is, in our pictures, apparently teaching his royal nieces the same Nazi greeting he would give Hitler personally at his mountain retreat four years later."
It defended the Queen Mother and the Queen, highlighting their own patriotism and courage during the Second World War, adding: "These images have lain hidden for 82 years. We publish them today, knowing they do not reflect badly on our Queen, her late sister or mother in any way.
"They do, however, provide a fascinating insight in the warped prejudices of Edward VIII and his friends in that bleak, paranoid, tumultuous decade."
The Sun's managing editor Stig Abell defended the publication of the footage, insisting it had not been published "to suggest any impropriety".
But he added: "It is an important and interesting issue, the extent to which the British aristocracy - notably Edward VIII, in this case - in the 1930s, were sympathetic towards fascism."
Speaking to the BBC, he said: "I think this is a piece of social history. One of the most significant events in our country's history, the Second World War, the rise of Nazism, one of the most pernicious movements in human history, and I think one is entitled to have a look at some of the background to it."
He added: "We're very clear. We're of course not suggesting anything improper on behalf of the Queen or the Queen Mum."
Military historian James Holland defended the Queen's Nazi salute as the royals playing around.
He told The Sun: "They are all having a laugh, there are lots of smiles, so it's all a big joke. I don't think there was a child in Britain in the 1930s or 40s who has not performed a mock Nazi salute as a bit of a lark."
The front page seemed to incense many on Twitter...
If you needed a reason not to buy The Sun, sorry I mean Scum, its today's front page. It's such a non-story that it's actually embarrassing.

— Mark Jackson (@Notfiman) July 18, 2015
Talk about making something out of nothing today re The Sun's front page. In 1933 that gesture meant nothing like what it came to mean later

— Susan W (@CiderwithSusie) July 18, 2015
Re the "Nazi salute" This is typical Gutter Sun. The Queen was 7 years old FFS. It was years before anyone knew what the Nazis were about.

— Malcolm Wood (@Askrigglad) July 18, 2015
The Queen Nazi salute story is more proof that the sun is despicable, It is run by a despicable human being. Stop buying it. #DontBuyTheSun

— Andy Hearn (@AndyHearn09) July 18, 2015
Other defended it…
Whatever you think of the Sun, Queen doing a Nazi salute is an amazing scoop which any paper would have published (except perhaps Mail?)

— Rory Cellan-Jones (@ruskin147) July 18, 2015
Congratulations to The Sun for publishing photo of 6-year old Queen giving Nazi salute in 1933. Of course they should have published it

— Michael Crick (@MichaelLCrick) July 18, 2015
I am a huge monarchist and I have absolutely no problem with The Sun's front page. Does not implicate HM and is deeply fascinating.

— Benjamin (@screwlabour) July 18, 2015
Never one to defend The Sun but yes people knew what the Nazi's were about in 1933, and way before then

— Lanky (@GeorgeLankester) July 18, 2015
The Guardian's Roy Greenslade also came out in defence of the piece.
He said: "The Sun, if one reads the seven pages devoted to the story, clearly attempts to put the images in an historical context and goes out of its way to say it casts no aspersions on the Queen, her mother and, of course, the Queen's three-year-old sister, Margaret."
He does, however, add that the Sun is perhaps overstating its case that Edward was "already a fan of Hitler" at the time the footage was taken.