Arcade Fire will be taking their fans inside their minds in their first feature film 'The Reflektor Tapes', due in cinemas from the end of September.
The Grammy-Award winning band have been shifting albums in droves since their inception in 2001, including the Grammy winner 'The Suburbs', but this is the first time they've revealed themselves on film.
The Reflektor Tapes is directed by Sundance winner Kahlil Joseph, and is described as a meeting of documentary, music, art and history, and will include personal footage, interviews and moments captured by the band themselves.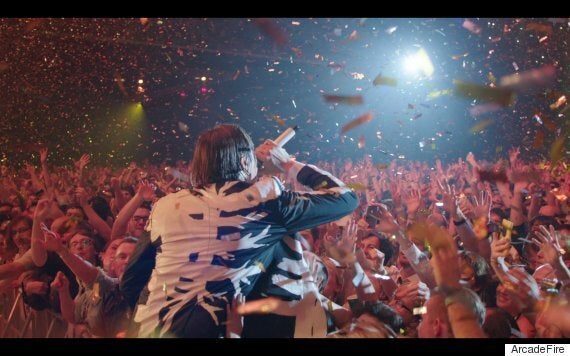 Behind the scenes and from the stage of Arcade Fire in the film 'The Reflektor Tapes'
As well as going behind the scenes of the making of the band's critically-acclaimed album 'Reflektor', it charts the band's intimate creative journey as they laid the foundations for the record in Jamaica, then started recording in Montreal, and played an impromptu gig in Haiti, before taking their live show to arenas in Los Angeles and London.
Arcade Fire said of the film: "There were parts of the Reflektor tour where I think we, Arcade Fire, came the closest in our careers to putting on stage what we imagined in our heads. We were insanely lucky to have Kahlil Joseph documenting from the very beginning."
To accompany the film announcement, Arcade Fire have also released this exclusive new music video for the track 'Porno', created by Kahlil Joseph and featuring footage from The Reflektor Tapes.
Cinema listings and tickets available soon at www.TheReflektorTapes.com. The film has been produced by Pulse Films ('20,000 Days on Earth', 'Shut Up And Play The Hits').
Popular in the Community