Longtime 'Neighbours' fans will be excited to learn that one of their favourite faces is back in Ramsay Street after a five-year break, with the return of actress Carla Bonner, and her bike-loving alter ego Steph Scully.
Carla, who played the eldest of the Scully sisters for eleven years until her departure in 2010, is filming her first scenes this week, with her first appearance on screen due for mid-October. She has confirmed she's returning this time as a regular cast member, following her one-off appearance three years later.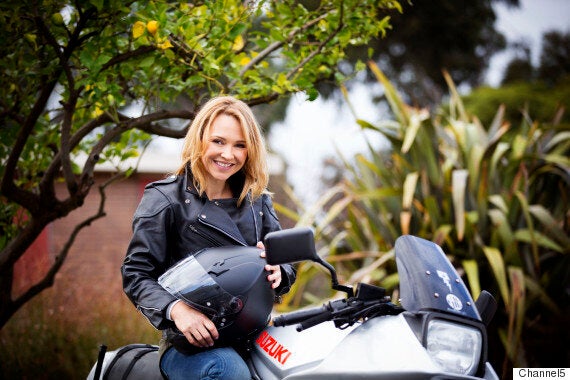 Carla Bonner is returning to Ramsay Street as Steph Scully
During her long tenure on the show first time around, Steph had more than her share of romances - including one with best friend Libby's husband, no less - marriages, including a fake one to best friend Toady - motorbike accidents and kidnappings - including her departure, when she was arrested for stealing Lucas and Vanessa's baby.
There may be a cloud of suspicion hanging over Steph on her return, and the residents may be way of her next move, but... fans still love her, as do the show's bosses. "It's wonderful having Carla back on set permanently, she is the consummate professional," said Jason Herbison, Neighbours' Series Producer.
Carla reports of her return, "I feel like I've come home, I feel like a girl who flew the nest to see and explore the world, and has returned an enriched woman."
In between stints on Ramsay Street, the Aussie actress has been working in the theatre, as well as writing a dating book for men called 'Hook, Line and Sink Her', now in development as a web series. She has also been working on a reality TV show built around her own passion for health and fitness.
While she's been off screen, her family has been represented by her son Harley Bonner, who has played swimming champion Josh Willis on the soap since 2013. He's happy to have his mother involved in his work, telling News.Com.Au earlier this year, "Mum has been a constant source of positivity in the nearly two years I've been on the show.
"She is constantly watching the show. She tapes it. She gives me constructive criticism."
'Neighbours' is on Channel 5 at 1.45pm and 5.30pm, daily.