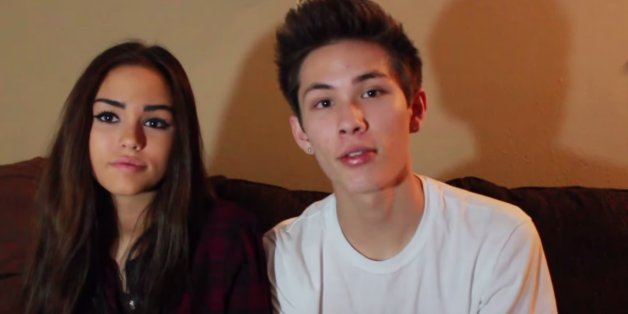 YouTube/Carter Reynolds
UPDATE: Carter Reynolds takes a break from social media after tweeting suicide threats following sex tape leak
Social media star Carter Reynolds has been accused of normalising rape culture after a sex tape of him and his 16-year old girlfriend, Maggie Lindemann, leaked online.
The video, which emerged after Reynold's iCloud account was hacked, shows an intoxicated Lindemann being pressured into performing oral sex on Reynolds.
Despite Lindemann refusing multiple times and stating she feels uncomfortable, Reynolds can be heard saying "do it" and "come on".
In his apology, Reynolds referred to the incident as a "HUGE misunderstanding" and said "couples do stuff like that all the time".
June 23, 2015
However the 19-year-old's tweet wasn't been well-received by fans, who accused him of victim blaming.
@carterreynolds NOPE COUPLES DO NOT DO THAT ALL THE TIME COUPLES DO NOT TRY TO FORCE ONE OF THE THE OTHER TO DO SMTH THEY DNT WANNA

— mira (@cigarettezayn) June 24, 2015
@carterreynolds its not about the video it's about her being uncomfortable and you not accommodating that.

— julia (@liampayneckmole) June 24, 2015
@carterreynolds couples don't force people to do disturbing things on camera ALL THE TIME smh

— Becca/TYSM JENNA♡ (@hai_Becca_bai) June 24, 2015
@carterreynolds I'm sorry but pressuring someone to do something they don't want is not something couples do "all the time"

— madison//31 (@icerinknjh) July 19, 2015
Reynolds, who has 3.5 million followers on Vine and 2.4 million on Twitter, said that he had 'reached breaking point' since the leak of the video.
He urged his supporters to tweet the #WeLoveYouCarter hashtag in a tweet that has since deleted.
#WeLoveYouCarter thank you for teaching me that sexual assault is normal and easy to cover up if you get your own hashtag going :)

— Ezra Koenig (@antiarzE) June 25, 2015
Reynolds has since tweeted that he's contemplating suicide, and decided to take a break from Twitter.
The incident comes only months after YouTube star Sam Pepper came under attack for sexually assaulting women in a video.