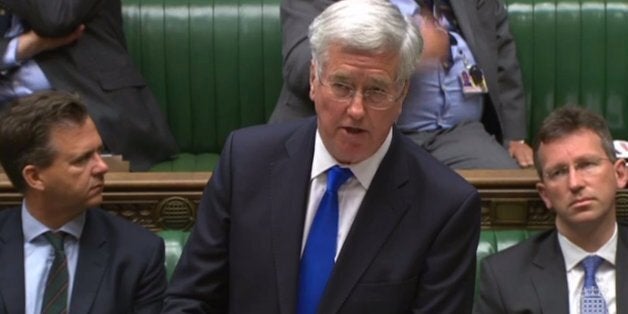 Defence Secretary Michael Fallon has been forced to confirm five British pilots have been involved in carrying out air strikes in Syria amid "anger" from MPs in Parliament.
The Government minister, under pressure after details emerged last week via a Freedom of Information request by the pressure group Reprieve, said the servicemen have been embedded with US and Canadian forces carrying out bombings in the country.
But Mr Fallon, delivering a statement in in the Commons, denied the practice represented flouting a vote by MPs in 2013 specifically against the UK taking part in military missions in Syria, arguing they were not British-led attacks.
Yet he faced criticism over "mission creep" and keeping Parliament "in the dark". The use of British pilots requires ministerial consent, which has been given on three occasions since last summer, Mr Fallon said.
The revelation comes as David Cameron has insisted Britain must do more in Syria to help tackle extremism at the source, though acknowledged direct British action would require Parliament's consent.
Shadow Defence Secretary Vernon Coaker said there was "anger" over the way the details had been published, adding: "The sad reality is the first thing we would have known is if something had gone wrong."
He went on to warn of actions that could "undermine public confidence in the entire strategy against ISIL".
"You can't take Parliament with you (over British-led action in Syria) if you keep Parliament in the dark," Mr Coaker said.
But Mr Fallon denied any suggestion of a cover-up, arguing it has been "standard practice" for up to 50 years not to publicise the details of operations led by other forces but the British government will "confirm details as and when asked to".
"When we were asked the question we answered it," he said, adding hundreds of pilots have been involved in missions led by the US and Canada and just five have been from Britain.
However, opposition backbenchers lined up to criticise, with Labour MP Michael Meacher warning of "mission creep towards war without a mandate".
"The system of ministerial accountability to this House behoves him not just to apologise but to consider whether his position is still tenable," he added.
Conservative MP Edward Leigh warned: "Don't take us for granted and tell us what's going on."
But Mr Fallon was supported by many other Conservatives.
Johnny Mercer, a former Army officer and Afghan veteran, warned of "uninformed debate" about military action, and questions belied a "fundamental misunderstanding about how our forces operate" - adding embedding is "vital" to tackling terrorism.