A student was turned away by the Holiday Inn Express because staff thought she was a Romanian prostitute, it has emerged.
The hotel chain has apologised "profusely" after 22-year-old Alecsandra Puflea tried to check in to a room in Hull with her boyfriend earlier this month.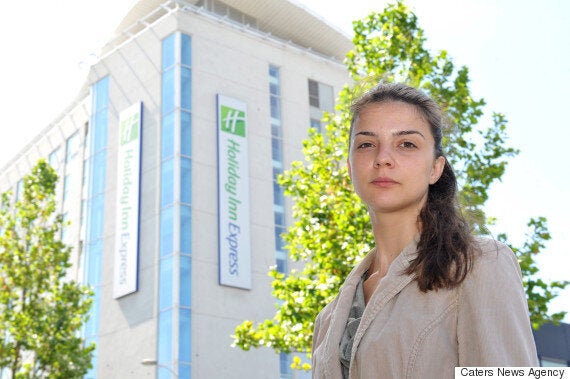 Puflea outside the Holiday Inn hotel where she was refused accommodation
The Hull University graduate had booked the room online, but upon arrival was reportedly told by a receptionist: "I'm sorry, but we don't accept Romanians."
According to the Hull Daily Mail, the hotel had introduced a policy of screening guests they suspect of engaging in illegal activity after other Romanian women were caught using the rooms for prostitution.
"He took one look at my ID and said that I could not stay in the hotel," Puflea told the local paper. "I tried to show him my British driver's licence but he said I could not stay in the hotel because I was from Romania.
"I was really confused and I didn't understand why they would do this. There were other customers standing around so I was very embarrassed and I don't want to be embarrassed by my country."
A spokesperson for Holiday Inn Express said: "We apologise unreservedly to Ms Puflea for the misunderstanding and distress caused by the booking refusal.
"Holiday Inn Express doesn't tolerate racial discrimination and the booking was absolutely not refused on racial grounds.
"Very unfortunately, Ms Puflea's booking - by pure coincidence - shared several characteristics with suspicious bookings that the hotel has previously encountered.
"The hotel was advised by police to put in place a policy that recognises the same patterns in booking behaviour.
"Reception staff made a judgement call to refuse the booking based on similar booking behaviours and not racial grounds.
"We acknowledge that this judgement was in hindsight an error and have since tried to reach out to Ms Puflea to apologise and make amends."
Humberside Police confirmed officers had investigated a complaint from Puflea, who studied criminology and forensic science at university, saying: "Police have been dealing with a hate incident whereby a lady was refused a room at a Hull city hotel allegedly due to a policy they had in place.
"The victim believed the reason she was turned away from the hotel, despite booking her room online, was due to her race.
"Officers have spoken to the general manager of the hotel and their policy is to be reviewed.
"Humberside Police take discrimination seriously and have separate reporting and investigation channels at their disposal.
"It is reassuring to hear the victim has accepted the hotel's apology and the hotel are reviewing their local policy in order to prevent potential discrimination occurring in the future."