After the Twitter spat of the year between Nicki Minaj and Taylor Swift, Katie Hopkins has revealed herself to be Team Taylor. But being Katie Hopkins, she's obviously done it in typically nasty fashion.
READ MORE:
The controversial star has fat-shamed the rapper, launching an attack on her in her latest The Sun column.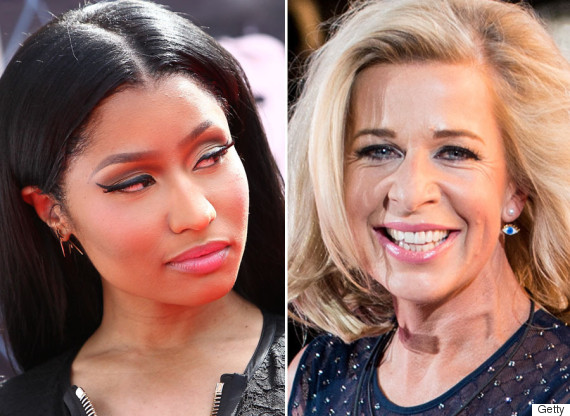 Nicki Minaj and Katie Hopkins
Speaking about Nicki's disappointment at not being nominated for Video of the Year at the MTV Video Music Awards, Katie ranted: "Look, Onika, if I may address you as such. I don't care what you think you are. You have a fat ar*e and norks of porn."
"Lay off the burgers and quit being a sore loser," she added.
We're sure Nicki has this response to such a suggestion:
Katie's rant came as Taylor took to Twitter to apologise to Nicki on Thursday, after accusing Nicki of "pitting women against each other".
Taylor's comments were in retaliation to a series of tweets from Nicki, that she wrongly believed to be about her, and the 'Shake It Off' singer eventually admitted to misunderstanding the situation, tweeting:
I thought I was being called out. I missed the point, I misunderstood, then misspoke. I'm sorry, Nicki.

July 23, 2015
Within the hour, Nicki graciously accepted Taylor's apology, replying:
That means so much Taylor, thank you. @taylorswift13 ❤️❤️❤️

— NICKI MINAJ (@NICKIMINAJ) July 23, 2015
Now, can we expect an apology from Katie? We're not holding our breath.
LIKE US ON FACEBOOK | FOLLOW US ON TWITTER