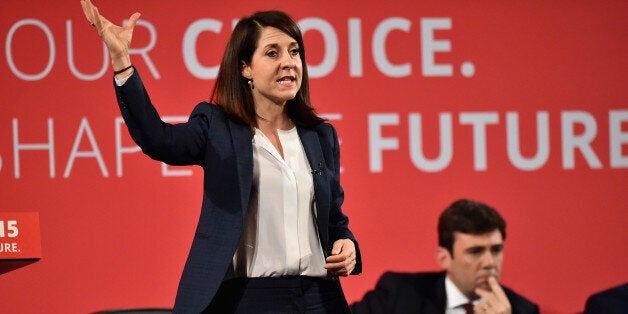 The Labour leader race saw a fresh spat over sexism today after Liz Kendall accused a senior Andy Burnham supporter of dismissing her and Yvette Cooper on the grounds that they were women.
Ms Kendall reacted furiously to a Times article by Lord Falconer - titled "Women In Labour leadership race 'not up to challenge'" - in which he said Kendall and Cooper were 'unlikely' to beat Jeremy Corbyn.
The Burnham campaign insisted that the peer's remarks had been misrepresented, but Ms Kendall was scathing in her response.
In a statement to The Huffington Post UK, she said: "It is depressing to see a senior man in the party dismiss the contribution of women so easily.
"Charlie made a great contribution to the last Labour government and I would have thought he would have learned that one of the reasons we achieved so much was because there was a record number of women around the top table.
"For Charlie to say that women somehow aren't tough enough to lead the Labour Party is a gross insult.
"And as for standing up to Jeremy Corbyn, I'm the only candidate who has been saying he would be a disaster for our party and that I wouldn't serve in his shadow cabinet, unlike the candidate Charlie is supporting."
Ms Kendall and her supporters reacted strongly after seeing the Times article but Ms Cooper spoke out too during a Mumsnet Q&A about sexism.
"We still have a long way to go in changing attitudes. As we've seen today, people still suggest women aren't strong enough to do the top jobs, whether they have kids or not. How wrong they are," the Shadow Home Secretary said.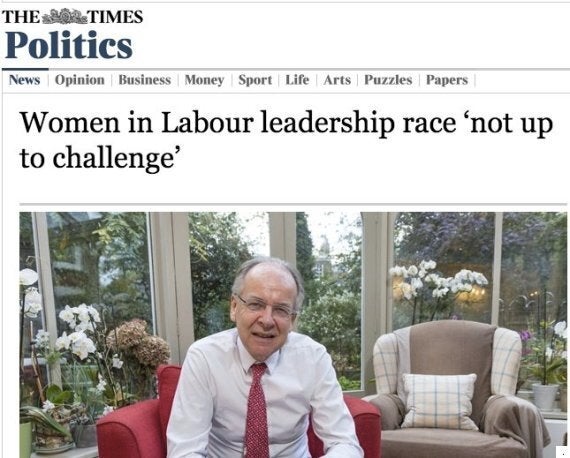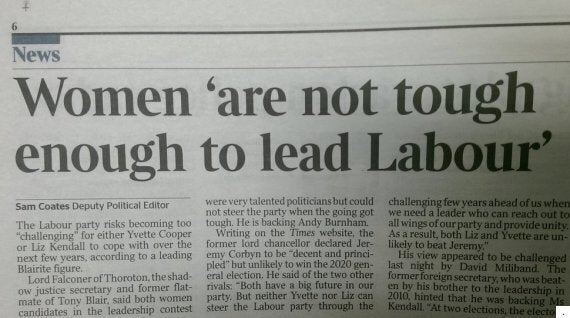 Shadow minister Emma Reynolds, who is supporting Ms Kendall, was quick to pounce.
A spokesperson for the Burnham campaign hit back, saying Lord Falconer's article had been misunderstood. "It's clearly not what Charlie was saying and it's not our headline," they told HuffPost UK.
"It was not about gender it was about the best candidate, as yesterday's MORI poll underlined."
An Ipsos/MORI poll yesterday found that Mr Burnham was the public's choice as the best Prime Ministerial candidate of the four Labour contenders.
The Shadow Health Secretary had even higher figures among Labour voters, with 43 per cent saying he had what it takes to become a good Prime Minister, compared with 37 per cent for Ms Cooper, 26 per cent for Mr Corbyn and 22 per cent for Ms Kendall.
Ms Cooper was asked about the Goodman remarks today on Mumsnet, and declared that 'being a working mum is part of who I am".
"I think this is a manufactured row which in the end has sexism at its heart", she said.
"Talk about whether someone is a working mum, a stay at home mum, or has no children is too often interpreted as a criticism of other women or used as a reason to divide women from each other. It should never be.
"Rachel Reeves was told she couldn't be a Cabinet Minister because she had a baby, Liz Kendall and Theresa May are criticised for not having children. Some women are criticised for going out to work when the children are small. Others are criticised for staying at home instead. Its outrageous, and we shouldn't fall for it.
"Women should be able to talk about their lives without it being used against other women. Being a working mum is part of who I am - it's why I rarely do breakfast meetings so I can do the school run and it's also why I didn't stand for the Labour leadership in 2010, because the children were much younger."
Infighting in the leadership race plunged to new depths of acrimony this week after a YouGov poll put Mr Corbyn in first place, followed by Mr Burnham.
Latest nominations by Constituency Labour Parties also put the leftwing Islington North MP in the lead on 91 endorsements, compared to 83 for Mr Burnham, 79 for Ms Cooper and 14 for Ms Kendall.
One of Mr Corbyn's biggest allies, shadow minister Jon Trickett, today said it was time to have a leader who could bridge the 'huge gulf' between the party leadership and its members.
In a further sign of a non-agression pact between the Corbyn and Burnham camps, Mr Trickett attacked Ms Cooper and Ms Kendall for refusing to join a Corbyn leadership.
"Two of the leadership candidates have said that they would not serve in a shadow cabinet if the party membership elect someone they disagree with," he wrote
"This is a profound mistake. It seeks to de-legitimise not so much simply the winning candidate, but all those tens of thousands of members who voted for him."