New mothers are being forced out of work every year because of discrimination against women in the workplace, a new study has found.
In a survey of over 3,200 women, one in 10 had been dismissed, made redundant or treated so poorly they had to quit their job.
Discussing the findings, Anne Marie O'Leary, Editor in Chief of Netmums told HuffPost UK Parents: "Not only is maternity discrimination illegal, it's also bad business practice.
"With mums making 85% of buying decisions and controlling billions of pounds worth of family finances, having mothers as part of your workforce gives firms invaluable insight into consumer behaviour." O'Leary said companies which force out pregnant women and new mums are losing customers.
She added: "Recent studies show the most successful firms like Jaguar Land Rover and Unilever recognise the value of working mums, with the number planning to hire working mums doubling since 2011.
"Pregnancy is a fact of life so companies should stop looking at pregnant women and returning mums as a problem and start seeing them as an asset, using the skills they have to benefit their business."
The current research, carried out in partnership with the Business Department, found one in five new mothers experienced harassment or negative comments from their colleagues, employer or manager when pregnant or returning from maternity leave.
One in 10 said they were treated worse by their employer when they returned to work after having a baby, and 7% revealed they were put under pressure to hand in their notice.
She said: "Unfortunately, I've heard of similar cases of discrimination happening to women I know. Many of them have chosen self-employment and working from home as a result.
Agreeing with O'Leary, Lights added: "These workplaces are missing out: pregnant women and mothers are no less committed to their work and in my experience mothers can also be very resourceful and excellent at multitasking. It's no secret that we are under appreciated in the workplace.
"I hope that this study helps to highlight this issue further for those who are not aware, and helps to bring about positive change."
She said: "The traditional workplace is changing - the 9-5 has been replaced with remote working, irregular hours that fit around your lifestyle and being available 24/7.
"With record numbers of mothers returning to work, it's important that employers recognise and embrace these new working ways.
"From personal experience, I was treated amazingly well by my boss during pregnancy. She was supportive, understanding and never for a moment treated me any differently."
But unfortunately, being treated well by employers isn't universal.
The study by the Equality and Human Rights Commission (EHRC) also found when mothers were allowed to work flexibly, around half said they received fewer opportunities at work or felt their opinion was less valued.
One in 20 mothers said they received a cut in pay or bonus after returning to their job.
Yvonne Grant had a bad experience of returning back to work. She HuffPost UK Parents on Facebook: "I was fired four days after telling my boss I was pregnant.
"I had told them early due to bad morning sickness and in a fit of rage my boss told everyone in the office then fired me via email.
"Needless to say I sued the company and won but it left me very depressed during my pregnancy and with major financial worries. I now have a very different view of how the labour market in general view pregnancy and parenting." Lorna Weaving found herself in a different situation. Her maternity leave is up next month but she has just been told her position is "no longer available".
She said: "Someone else is now doing by job. I have been offered two alternatives. One is in a service seven miles away (I don't have a car and it's shift work). The other is in a service that nobody else wants to work in, because it's extremely challenging but the pay is the same."
Caroline Waters, deputy chair of the EHRC, said about the findings: "This research reveals the worrying levels of discrimination and disadvantage at work that women still face today. Not only is discrimination unlawful, but it is also bad for business.
"That's why today we're launching a major initiative to bring this issue into the public eye, improve awareness of the law and work with business and other groups to find workable solutions."
But it's not only the issue of having no jobs, argued Cathy Warwick, chief executive of the Royal College of Midwives, because this discrimination can also cause additional stress, anxiety and depression which could impact the woman's health and her baby.
She said: "It is very disturbing that the rates of discrimination against pregnant women are so high. Government must act to ensure pregnant women are not denied their rights and they are not discriminated against.
"This can lead to costly implications for the NHS but most importantly it can have potentially devastating effects on the health of the woman and her baby."
Although many women have felt the effects of being discriminated against at work, several mums spoke to HuffPost UK Parents to praise their own employers.
Helen Livsey said: "I have had different employers for each of my pregnancies, but I have to say, I've had no issues at all. All were very accommodating with time off for appointments, with arranging (and changing) maternity leave dates and returning to work too. I returned to the same job on flexible hours that I requested and were instantly agreed to."
Polly Thompson found the same, adding: "My employers are brilliant. I went straight back into my old job and have since had a promotion. No complaints from me and my boss is amazingly flexible when I have childcare issues stating 'family come first'"
But with the worrying figures showing thousands of women being forced out of work, the study highlights an issue that without a doubt urgently needs a solution.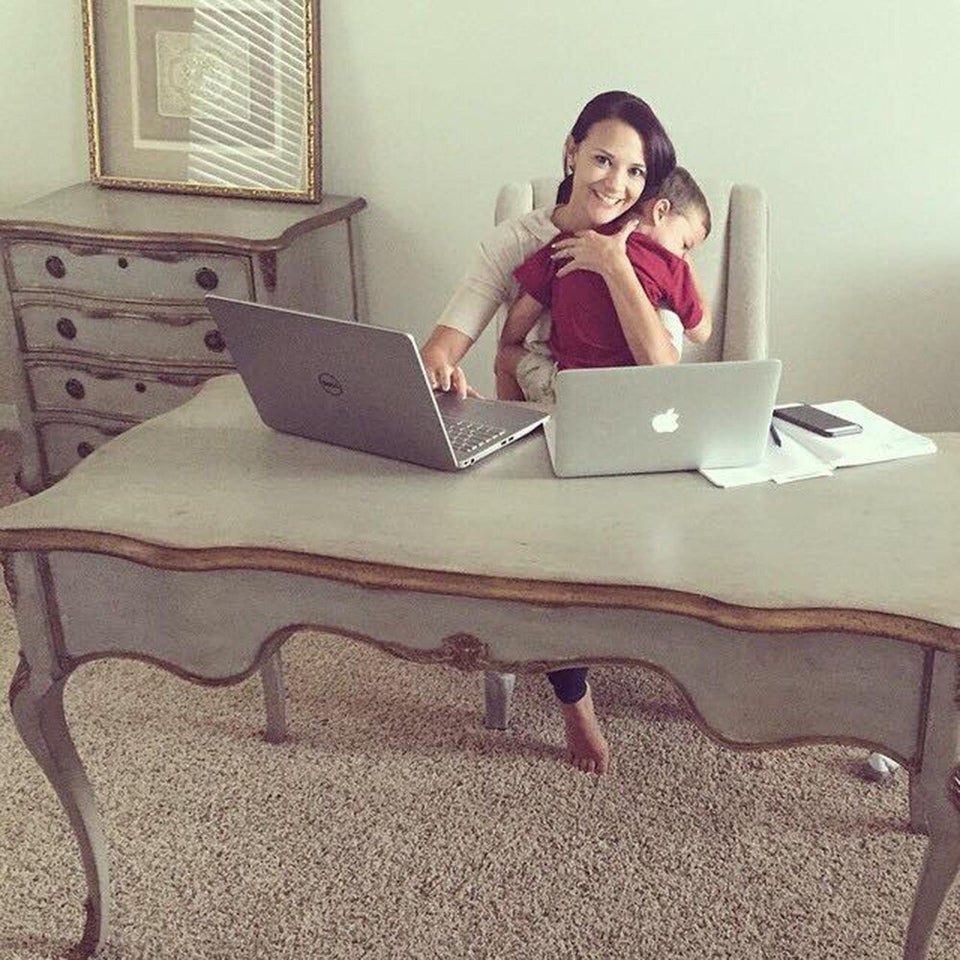 Working Parents