Sarah Harding made no secret of the fact that she was feeling anxious ahead of her 'Coronation Street' debut on Thursday night, admitting viewers would be expecting 'high standards'.
READ MORE:
And the former Girls Aloud star's nerves about arriving on t'cobbles didn't look like they'd eased up as her debut episode aired.
See a clip of Sarah's acting (story continues below)...
Sarah, who plays Joni Preston, the wife of chef Robert, took to Twitter to share a snap of her hugging a bowl of popcorn and looking VERY nervous as she watched herself make her 'Corrie' debut.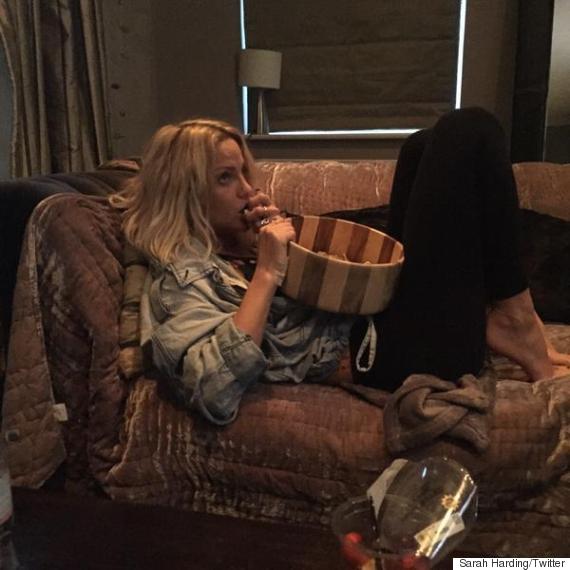 Sarah Harding was looking a little anxious as she watched her 'Corrie' debut
Ahead of the first episode going out, Sarah said: "I know it's going to be a mixed reaction, because people are going to be expecting high standards, and so as long as I'm prepared for that, that's fine.
"I hope I've done the soap justice," she added. "But there are going to be people who go, 'Oh, she can't act'. I'm just going to go, 'It is what it is'."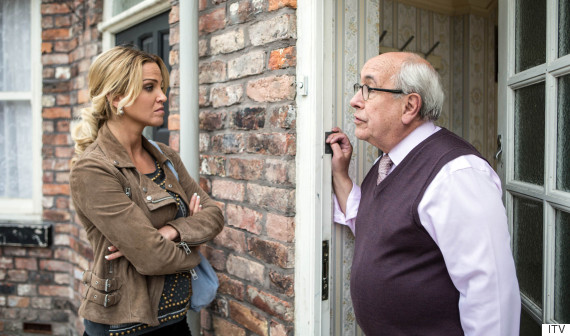 Unfortunately for the 33-year-old star, that's exactly what happened, as viewers took to Twitter to lambast the singer's acting ability.
Sarah Harding's acting is almost as good as her singing, which was atrocious #CoronationStreet#corrie

— Chloe Jasmine (@ChloeJasmineXF) July 23, 2015
Sarah Harding's acting is every bit as bad as her singing. Thank god she's only in 4 episodes #corrie#HardingdoesCorrie

— Nic Perrins (@nicperrins) July 23, 2015
Someone needs some acting lessons. Bless. #HardingDoesCorrie

— Jack Bowman (@TheJackBowman) July 23, 2015
Oh Christ. Sarah Harding can't act #corrie

— Dolly Dolittle (@DollyGoBrightly) July 23, 2015
lol is sarah harding actually acting in corrie??

— SOPH (@soph_llewellyn) July 23, 2015
#corrie I was looking forward to seeing Sarah Harding on the cobbles but ouch..!! Looking great but stick to singing love..

— Mellie G (@MelanieGibson1) July 24, 2015
We need to talk about Sarah Harding's "acting" #Corrie

— david (@theboywhoslept) July 23, 2015
But not everyone thought Sarah was rubbish...
@SarahNHarding I just caught up on Corrie and you were amazing. I hope they give you a permanent role! I am so proud of you❤️

— jodie (@_jodieroberts) July 23, 2015
@SarahNHarding loving joni on @itvcorrie. Breath of fresh air to the show

— Emma Cadman (@BamBamBemma) July 24, 2015
Massive congrats to @SarahNHarding on her debut on #corrie tonight! Go on the sozzle!!! :)

— Darren (@DarrenDuffy_TM) July 23, 2015
What did you think of Sarah's 'Corrie' debut? Watch the clip above of her in action and leave a comment below...
LIKE US ON FACEBOOK | FOLLOW US ON TWITTER