In case you hadn't heard (in between details of his jaw-dropping workout preparations and his trips to Greggs for baguettes), Jake Gyllenhaal stars in 'Southpaw', a contemporary but classic tale of riches to rags to possible redemption for boxer Billy Hope.
Billy seemingly has it all - beautiful wife and child, an all-seeing agent, and the blingtastic rewards that come with boxing supremacy. On one harrowing night, however, it all goes tragically wrong, and Billy is left with, quite literally, nothing, which is bizarre but strangely believable, the way director Antoine Fuqua handles the transition.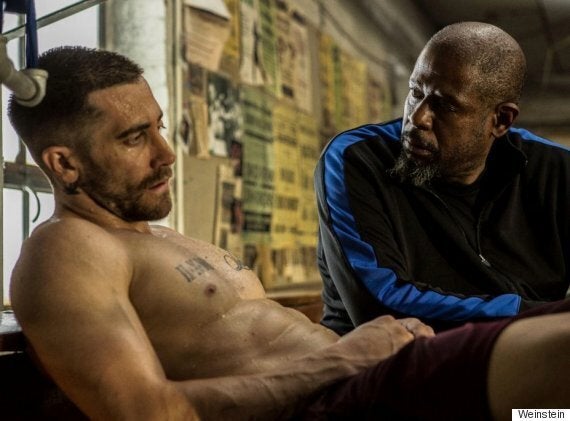 Jake Gyllenhaal with Forest Whitaker in 'Southpaw'
Where can Billy turn? A boxing club in a beaten-down neighborhood, and the quietly powerful presence of amateur boxing trainer Tick Wills, played by Forest Whitaker, safely scooping up the sage bystander baton from Morgan Freeman in 'Million Dollar Baby'.
Fans of boxing films from 'Rocky' to 'Raging Bull' will be able to set their watches by the training montages, but what sets this film on a par with the latter is Jake Gyllenhaal's central, towering performance. Much has been said of the intense commitment he put his body through for the boxing matches - and certainly we feel every punch - but the real power of his tour de force as Billy actually lies outside the ring, when he realises how little he has to his name, when he's humiliated by his former agent, a glistening-eyed 50 Cent, when he's humbled by his fumbling attempts to be a good father to a little girl.
The scenes with his daughter are properly heart-breaking, proving once again all we know of Jake Gyllenhaal's powers in bringing his intense humanity to the screen. Billy Hope is a broken man, and we can only root for him to find his way home.
'Southpaw' is in UK cinemas from today. Watch the trailer below...
Popular in the Community