Teen Danny Joe Parkinson has taken holiday memorabilia to the next level and had 17 of his friends' names tattooed on his leg following a 'lads trip' to Greece.
The 19-year-old salesman from Manchester and his friends, who all grew up together, flew out on July 14 for an alcohol-fuelled break in Malia and quickly decided to accept the challenge of going under the needle.
Costing him £150 and taking just over an hour, Danny's tattoo was funded by his friends all pitching in (deciding having their name on a friend's leg was worth £10), and the session took place after a few pints when he was "a bit drunk but not that drunk".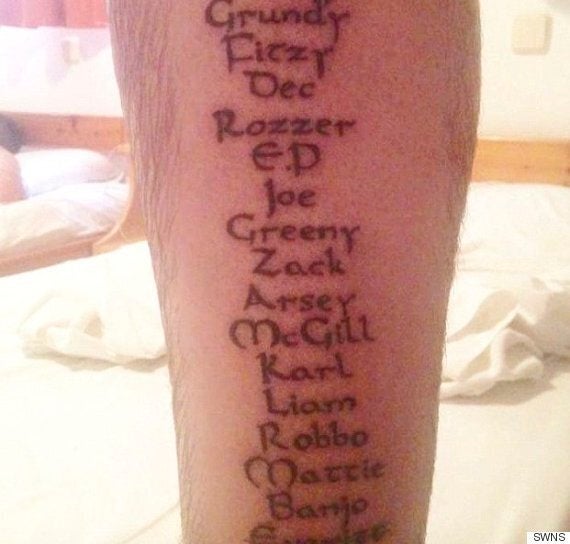 Danny's tattoo including his own nickname 'Banjo'
He even went as far as to include the name of 'Everitt' who was meant to attend the trip and dropped out, hence Danny later went back to the tattoo studio and had the name crossed out. In addition he included his own nickname 'Banjo' just to be sure he would remember exactly who was present on the holiday.
As he explained to The Daily Mail, his main motivation was his friends egging him on and refusing to believe he would go through with the dare: "Two of the guys had bet me earlier in the week that I wouldn't do it, but I said I would later on into the holiday, so I could still go in the pool and the sea.
"They said I wouldn't do it, I said I would, and it went on like that. Some of our group are leaving today so I did it last night." When asked what his parents would say, Danny responded "they all know I'm an idiot anyway, so not much" and explained that he also had his room number from last year's trip to Kavos tattooed near his hip.
"I'm full of bad tattoos if I'm honest. I've got 'BBQ' tattooed on my rib. I've got an origami boat on my arm."
He seems perfectly satisfied with his 14th tattoo and new addition concluding: "I don't regret it at all. I'm happy with the quality of it, and it's just for fun."
Related