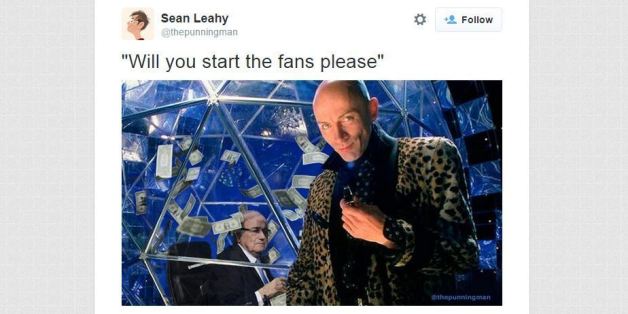 It's been a very busy week in the world of news. In case you missed some stuff, here's every major event illustrated with funny tweets.
We learned a lot about how the Royals behaved during the war...
Thanks, the late Queen Elizabeth the Queen Mother. You've just given me my new standard email sign off pic.twitter.com/BWQ3cdFJO4

— Michael Moran (@TheMichaelMoran) July 20, 2015
Including a picture appearing to show the future Queen giving a Nazi salute:
@BestoftheMail exclusive photo has emerged of the queens childhood cat pic.twitter.com/Az2OYhQJt9

— John Carlin (@johnmarkcarlin) July 20, 2015
Kim Jong Un was re-elected as the big boss in North Korea:
Voting has begun in the North Korean elections. Results were announced last week.

— paul bassett davies (@thewritertype) July 20, 2015
A picture of the Queen driving went viral:
The Queen drove over the weekend, I reckon her number plate is more impressive though!

http://t.co/dX8SM5I0m5pic.twitter.com/EKqiDUzhTe

— Tahira Mirza (@tahiramirza1) July 20, 2015
Lee Nelson threw a bunch of fake money at Sepp Blatter:
Sepp Blatter announces he will not stand for reelection in 2016 and will instead focus on his rap career. pic.twitter.com/vJZBaMxwYN

— Rhys James (@rhysjamesy) July 20, 2015
The exact moment when he loses interest because he realises it's fake money.

#LeeNelson#JasonBent#SoManyNamespic.twitter.com/oOkh5KTeiA

— Boothby Graffoe (@boobygraffoe) July 20, 2015
"Will you start the fans please" pic.twitter.com/zCOlx0NPcQ

— Sean Leahy (@thepunningman) July 20, 2015
A website aimed at pairing up people who wanted to cheat on their spouses was hacked and all members' data was compromised:
I feel genuinely sorry for the users of cheating website Ashley Madison. They placed their trust in the site and now they're being betrayed.

— Marty Lawrence (@TeaAndCopy) July 21, 2015
London had a bit of an algae problem:
Hey clean eating, deliciously whatever bores: there's free smoothie down the regent's canal today pic.twitter.com/VcXNmD3Pmy

— Rhiannon L Cosslett (@rhiannonlucyc) July 21, 2015
There were a few weird National Days:
Apparently it's National Masturbation Day and National Junk Food Day today. Or if you're a World of Warcraft player, 'a normal Tuesday'.

— James Martin (@Pundamentalism) July 21, 2015
Prince George turned two:
Yay. It's my birthday and I got Cornwall. pic.twitter.com/mj71KdrOsS

— Trouteyes (@trouteyes) July 22, 2015
Today's page 3 girl is a bit young for me tbh @TheSunpic.twitter.com/P2K98XIRqE

— Ryan Barrell (@RyanBarrell) July 22, 2015
Donald Trump went to visit the Mexican border:
Donald Trump is going to visit the US border with Mexico later. pic.twitter.com/8G5MUGsnG9

— Rich Evans (@richevans) July 23, 2015
This happened:
My proposal to install 800,000 ceramic puppies around the Tower of London has been turned down😟

— Grayson Perry (@Alan_Measles) July 23, 2015
Nicki Minaj and Taylor Swift had an argument on Twitter and people cared for some reason:
If the Twitter feud between Taylor Swift and Nicki Minaj has taught me one thing, it's that they're both singers, apparently.

— Jason (@NickMotown) July 23, 2015
Owen Jones interviewed Ukip's only MP:
"Dad why are you always embarrassing me in front of my friends with your neoliberal economic views?" pic.twitter.com/XBeEqCmAiw

— Willard Foxton (@WillardFoxton) July 23, 2015
We discovered a new earth-like planet:
I love being British means the possibility of another Earth is cancelled out by definitive offer of fruit pastilles pic.twitter.com/U8xnFh5e14

— Felicity Morse (@FelicityMorse) July 23, 2015
And Jeremy Corbyn continued to storm through the Labour leadership election:
The surname Corbyn comes from the Latin word 'Corbynus', which means 'amazed by bins'.

— Nick Harvey (@mrnickharvey) July 24, 2015
And that's your weekly round-up. Tinkety tonk old fruits, and down with the Nazis.
SEE ALSO: