A woman spends nearly £15,000 a year on her six dogs – going without so they can enjoy Waitrose biscuits, Marks and Spencer's steaks, posh pedicures and private personal trainers.
Marketing executive Ewa Kasyan, 36, said her four mini dachshunds and two Jack Russells were her "best friends".
"Nothing is too much for them," she said. "They are my babies."
Miss Kasyan, who lives in a three-bedroom semi-detached house in Stevenage, Hertfordshire, earns £45,000 a year – but a considerable chunk of this goes on her precious pets with her partner contributing half towards their upkeep.
Every time she goes on holiday she buys them presents – for example when she was recently in Spain, they were treated to individual beach towels.
They also attend a private pool for swimming lessons and have a personal trainer so they stay in tiptop shape.
She spoke as it was revealed a growing number of Brits were now splurging huge amounts of money on pampering their pets. According to research carried out by credit card company Capital One, the average family spends £264 per year on pet presents.
Admitting that she shops more for her dogs than herself, Miss Kasyan revealed that she indulges them with regular massages, manicures, swimming lessons and personal training sessions.
"My friends think I'm crazy and told me I should go and get a real baby," she said. "That will happen soon, but not yet. These are my fur babies."
The two Jack Russells are 11-year-old siblings Nino and Lulu, who has her own Facebook page with almost 300 friends.
The remaining four – Mini, 6, Maxi, 5, Aida, 3, and her twin brother Stan – are all mini dachshunds.
All besides Mini and Maxi were born in Miss Kasyan's house, which she shares with a lodger.
"I didn't have dogs as a child because my mum was allergic to them, but my family has been sausage dog mad for generations," she said.
"It probably goes back to my great, great-grandparents. All my uncles and aunties have got them.
"They are just so funny and stubborn, have great personalities and they look so cool. Plus they have so much love for and a really close bond with their owners."
So appreciative is their owner of their love and loyalty she constantly showers them with gifts.
What Ewa spends on her dogs annually:

Insurance: £1,800
Food: £2,000
Treats: £1,300
Vaccinations: £1,500
Eye surgery for Lulu: £4,000
Bedding: £600 – Mini likes to chew blankets
Field hire: £25 a year membership plus £6 per go
Mani/pedicures: £650
Balls: £260
Holiday gifts: £180
Personal trainer £1,300
"They're very spoilt little dogs," she said. "I spend more money on them than I do on myself."
Their diet includes Marks and Spencer's steak and Waitrose biscuits.
"They deserve the best," said Miss Kasyan. "I don't think they'd even eat meat from Morrisons. They'd turn their noses up at it."
On Sundays they are treated to a roast dinner or a barbecue if the weather is good. And if mealtime service is not prompt the dogs protest.
"Maxi thinks she knows the time," she said. "If she's not fed at 6pm she pees on the floor. She's been doing it for five years."
All that fine food makes exercise important. Every week the dogs spend an hour at a local hydrotherapy pool learning to swim. A trainer, Katherine Ewen, gets in the water with them as they splash around in miniature life jackets.
Miss Kasyan said: "Sausage dogs can be very lazy and will just float in the water if you leave them to it."
For an annual membership of £25, the dogs have the run of a private field – though their owner does pay additionally its hourly hire.
Back home, they have their own pool and majestic sounding "pet palace".
All that hard work needs some rewarding, which is why pampering sessions are all important. A masseur gives them a monthly once over either in a doggy spa or the comfort of their own home.
The 20-minute rub down costs £20 per dog, which their owner thinks is well worth it as they "absolutely love it".
Manicures are also a regular feature, with females Lulu, Mini, Maxi and Aida, regularly coming out with blood-red nails.
The look is then completed with a choice of garments from the dogs' extensive wardrobe.
"They've got loads of clothes from all over the world," said Miss Kasyan.
Each animal has at least 10 outfits, many of which have been tailor-made. Among them are evening dresses – often costing as much as £60 – coats, pyjamas and even dressing gowns.
"I like them to have outfits on if they go out," said Miss Kasyan.
"They quite like it too because they stay nice and warm.
"It's very difficult to find stuff off the peg for sausage dogs, so I have clothes made in places like Italy, Canada and America."
Not to forget the accessories.
"Mini is my princess and she likes to wear necklaces and tiaras," said Miss Kasyan, who admitted to spending up to £30 on each sparkly item.
"She doesn't chew them off so she's obviously happy to wear them. She loves looking pretty."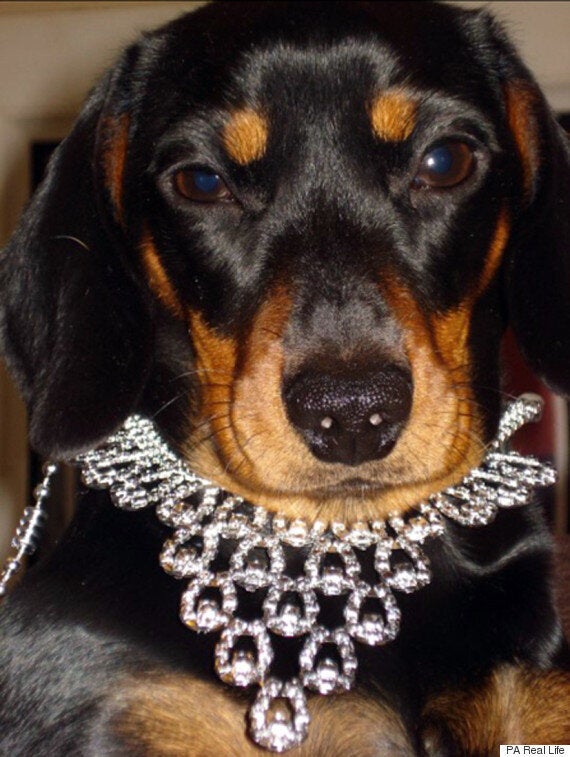 As Miss Kasyan's boyfriend is a staunch Arsenal fan, Nino has his own bespoke team strip. Meanwhile, if England are playing, the pooches will settle down to watch the match in red and white.
Keeping the animals entertained can also be expensive. The six are regularly taken into London to paint the town red.
Although Miss Kasyan is a driver, she prefers to venture out with them on the train and Tube, transporting the six sausage dogs in a stylish doggy buggy.
"Sausage dogs have vulnerable spines and they can easily slip discs, which leave them in agony," she said.
"You have to watch them all the time. But that's OK because they like the buggy and tourists love taking pictures of them."
When it comes to special occasions, the canines celebrate in style. There is always a party for birthdays, with a professionally made cake costing up to £50, balloons, banners, party bags and sometimes a barbecue and fireworks too.
Christmas is "crazy", according to Miss Kasyan, who usually books a photo shoot for her and the dogs. The pictures are then used for a "family" Christmas card, which altogether costs around £200.
Holidays can be more complicated. They do go away caravanning together, but Miss Kasyan also enjoys regular overseas trips.
During that time she entrusts her pets to her lodger Steven Doyle – and keeps in touch each night with a 15-minute Facetime call.
"They love hearing my voice and they usually lick the screen," she said.
Although the dogs' owner is determined to have children, she is adamant that nothing will change.
"I definitely want children and I think it will be fine because I've got a lot of support from Steven and my partner," she said. "There's no way that I would get rid of them. They would get equal attention.
"I love my dogs so much. I would do anything for them. If money was no object, I would clone them because I don't ever want to be without them. They are my best friends."